Serbian Patriarch Porfirije visited Dečani Monastery
5. May 2022 - 12:42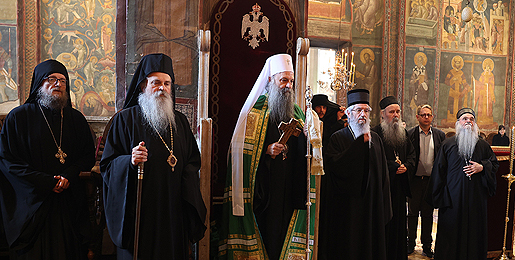 On 4 May 2022, His Holiness Serbian Patriarch kyr Porfirije visited the Dečani Monastery (photo gallery).
His Holiness Patriarch and his entourage, consisted of the members of the Holy Synod of Bishops Their Graces Bishops kyr Vasilije of Srem, kyr Jovan of Šumadija, kyr Fotije of Zvornik-Tuzla, and kyr David of Kruševac, Archimandrite Nektarije - Chief Secretary of the Holy Synod of Bishops; Archimandrite Danilo - Director of the Patriarchal Administrative Board and protodeacon Radomir Vrućinić, were solemnly welcomed by His Grace Bishop of Raška-Prizren kyr Teodosije and Abbot of Dečani Monastery Archimandrite Sava with the brotherhood and students of the Seminary of Sts. Cyrill and Methodius in Prizren.
Ο Πατριάρχης Σερβίας κ.κ. Πορφύριος επισκέφθηκε την Ιερά Μονή Βίσoκι Ντέτσανι
Η Αυτού Αγιότης, ο Πατριάρχης Σερβίας κ.κ. Πορφύριος, πραγματοποίησε στις 4 Μαΐου 2022 επίσκεψη στην Ιερά Μονή Βίσοκι Ντέτσανι.
Ο Μακαριώτατος Πατριάρχης, συνοδευόμενος από τα μέλη της Ιεράς Συνόδου, τους Θεοφιλέστατους Επισκόπους, του Σρεμ κ. Βασίλειο, της Σουμάντια κ. Ιωάννη, του Ζβόρνικ και Τούζλα κ. Φώτιο και του Κρούσεβατς κ. Δαυίδ, τον Αρχιγραμματέα της Ιεράς Συνόδου τον Πρωτοσύγκελο π. Νεκτάριο, τον Διευθυντή του Διοικητικού Γραφείου του Πατριαρχείου τον Πρωτοσύγκελο π. Δανιήλ και τον πρωτοδιάκονο π. Ράντομιρ Βρούτσινιτς, έτυχε θερμής υποδοχής από τον Θεοφιλέστατο Επίσκοπο Ράσκας και Πρίζρεν κ. Θεοδόσιο και τον Πανοσιολογιώτατο Αρχιμανδρίτη και Καθηγούμενο της Ιεράς Μονής Ντέτσανι κ. Σάββα, και συν αυτώ, τους Αδελφούς της Μονής, καθώς και τους μαθητές του Εκκλησιαστικού Λυκείου του Πρίζρεν «Οι Άγιοι Κύριλλος και Μεθόδιος».