Serbian Patriarch received U.S. Ambassador
9. May 2022 - 9:24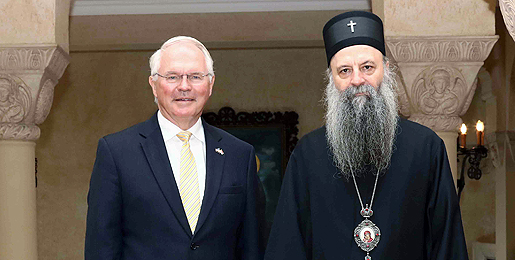 His Holiness Serbian Patriarch kyr Porfirije received His Excellency Christopher Hill, the Ambassador of the United States of America to the Republic of Serbia on 7 May 2022 in the Patriarchal See in Belgrade.
In a friendly conversation, the first since Ambassador Hill took office in the Serbian capital, the situation in the southern Serbian province of Kosovo and Metohija, where His Holiness the Patriarch had stayed in the previous days, was discussed. It was emphasized that today dialogue and peace are the most important and most needed everywhere and in every place, especially in Ukraine. The Patriarch emphasized the importance and role of the Serbian Orthodox Church in the Serbian people both in the country and in the region.
The reception was attended by the member of the Holy Synod of Bishops His Grace Bishop of Tuzla kyr Fotije, Head of the Office of the Serbian Patriarch His Grace Bishop of Marča kyr Sava, and Political Counselor of the U.S. Embasy Mr. Michael Kelleher.
Ο Πατριάρχης Σερβίας κ.κ. Πορφύριος υποδέχτηκε τον Πρέσβη των ΗΠΑ στη Σερβία
Στις 7 Μαΐου 2022, η Αυτού Αγιότης, ο Πατριάρχης Σερβίας κ.κ. Πορφύριος, υποδέχτηκε στο Πατριαρχικό Μέγαρο στο Βελιγράδι τον Πρέσβη των ΗΠΑ στη Δημοκρατίας της Σερβίας, Εξοχ. κ. Christopher Hill.
Σε πνεύμα φιλικό, κατά την πρώτη εθιμοτυπική συνάντηση με την ευκαιρία της ανάληψης των καθηκόντων του Εξοχ. Πρέσβη κ. Hill στην πρωτεύουσα της Σερβία, συζητήθηκε η κατάσταση που επικρατεί στη νότια περιοχή της Σερβίας το Κοσσυφοπεδίο και τα Μετόχια, όπου διέμενε ο Μακαριώτατος Πατριάρχης τις προηγούμενες μέρες,
Αμφότεροι τόνισαν την σημασία του διάλογου και της ειρήνης ως των πιο σημαντικών και των πιο απαραιτήτων αξιών παντού στον κόσμο, και σήμερα ιδιαίτερα στην Ουκρανία. Ο Πατριάρχης επισήμανε την θέση που έχει η Σερβική Ορθόδοξη Εκκλησία στον σερβικό λαό όσο στην Σερβία, τόσο και στην ευρύτερη περιοχή.
Στην συνάντηση παραβρέθηκαν ο Θεοφιλέστατος Επίσκοπος του Ζβόρνικ και Τούζλα και μέλος της Ιεράς Συνόδου κ. Φώτιος, ο Θεοφιλέστατος Επίσκοπος Μάρτσα κ. Σάββας, Διευθυντής του Γραφείου του Πατριάρχη Σερβίας και ο Πολιτικός Σύμβουλος της Πρεσβείας των ΗΠΑ Michael Kelleher.
Святейший Патриарх Сербский принял посла США
Его Святейшество Патриарх Сербский г-н порфирий принял 7 мая 2022 года в Патриаршем дворе в Белграде Его Экселенцию Кристофера Хилла, посла США в республике Сербии.
В дружеской беседе, впервые после вступления посла Хилла в должность в сербской столице была обсуждена обстановка в регионе Косово и Метохия, где в предыдущие дни находился Его Святейшество Патриарх Порфирий. В беседе было подчеркнуто, что сегодня диалог и мир являются самыми главными и самыми необходимыми везде и в любом месте, а особенно на Украине. Патриарх выделил значение, важность и роль Сербской Православной Церкви всербском народе как в нашей стране, так же и в регионе.
На приёме присутствовали член Священного Архиерейского Синода, прещсвященнейший епископ Зворницко – Тузлинский г-н Фотий, Глава Кабинета Сербского Патриарха, прещсвященнейший епископ Марчанский г-н Савва и политический советник посольства США Майкл Келлехер.