Biography of Archimandrite Jovan (Stanojevic), elected Bishop of Hum, Vicar of the Bishop of Düsseldorf and Germany
9. October 2021 - 15:00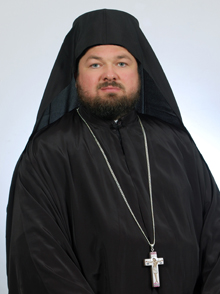 Jovan Stanojević was born on Vidovdan (St Vitus Day) in 1979 in Vukovar as the third child of Dusan and Boja (nee Milovanovic). At his baptism, he was named Radoslav. He grew up in Borovo, where he finished elementary school, after which he finished his auto mechanic trade in Vukovar. With the blessing of the then Bishop Lukijan of Osijek-Polje and Baranja of blessed repose, in 1998 he enrolled in the seminary "St. Arsenije I Sremac" in Sremski Karlovci, which he finished in 2004. On September 16, 2000, Bishop Lukijan ordained him a monk, ordained him a hierodeacon the next day, and in 2014 a hieromonk. With the blessing of the competent hierarch, in 2004 he enrolled in basic studies at the Faculty of the Orthodox Theology of the University of Belgrade, where he graduated in 2009.
During his undergraduate studies, from July to December 2007, he stayed as a guest in the Diocese of Western America, where, along with Bishop Maxim, he had the opportunity to get acquainted with the life, missionary and other challenges of the Holy Church in Western America. After completing his undergraduate studies, he continued his studies at the Holy Cross Greek Orthodox School of Theology in Boston, as well as at the universities in Münster, Birmingham and Wuppertal, where he received his doctorate in 2019 (https://www.editionen.uni-wuppertal.de/de/personen/assoziierte-kollegiatinnen-und-kollegiaten/stanojevic-jovan.html).
He works as a research associate at the Faculty of Theology in Wuppertal (https://www.kiho-wb.de/personal/jovan-stanojevic/)on the research of Greek manuscripts of the book of Revelation (https://www.manuscripta-biblica.org/).Since 2018, with the blessing of the competent bishop Gregory, he has been a clergyman in the Diocese of Düsseldorf and Germany, where he performs holy worship and sermons. He speaks English, German and Greek.
At the regular session of the Holy Assembly of Bishops of the Serbian Orthodox Church, Archimandrite Jovan (Stanojevic) was elected Bishop of Hum, Vicar of the Bishop of Düsseldorf and Germany.