Biography of Archimandrite Sava (Bundalo), elected Bishop of Marca, Vicar of the Serbian Patriarch
4. October 2021 - 9:22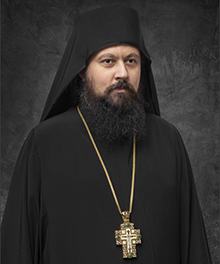 Very Reverend Archimandrite Sava (Bundalo), a brother of the monastery of St. Petka in Zagreb, was born on December 9, 1984 in Banja Luka, to father Jova and mother Gordana. He finished elementary school in Srbac. He enrolled in the seminary of St. Peter of Cetinje in Cetinje in 1999, and graduated in 2003 as a student of the generation.
After graduating from the seminary, he enrolled at the Faculty of Theology in Belgrade, where he graduated in 2010. He completed his master's studies in Canon Law in 2015 at the Institute of the Ecumenical Patriarchate for postgraduate studies in Orthodox theology in Geneva. He is a PhD student at the Faculty of Theology, University of Belgrade.
He studied Greek at the University of Athens from 2015 to 2017, and in 2019/20 he spent the academic year at the General Church Postgraduate and Doctoral Studies of the Russian Orthodox Church in Moscow, as well as at the State Institute for the Russian Language "Pushkin", improving his knowledge of the Russian language.
During his studies at the Faculty of Theology in Belgrade, he became met Patriarch Porfirije, then a professor at this Faculty, under whose spiritual guidance he completed his studies and moved to the Metropolitanate of Zagreb-Ljubljana, where he became one of his closest associates. when he decided and prepared for monastic life.
He received the monastic vows from the hands of His Grace Bishop Jefrem of Banja Luka in his hometown, in the Osovica monastery, on Lazarus Saturday, April 20, 2019, after which he was assigned to the brotherhood of the monastery of St. Petka in Zagreb. He was ordained to the rank of hierodeacon by the then Metropolitan Porfirije of Zagreb and Ljubljana in the Cathedral church of the Transfiguration of the Lord in Zagreb, on the second day of Christmas 2020. The ordination to the rank of hieromonk was performed by Patriarch Porfirije in the same church on April 18, 2021.
Since the election of Patriarch Porfirije to the throne of the primates of the Serbian Orthodox Church, with the blessing of the Patriarch, he moves to the Patriarchate in Belgrade, where he performs obedience, trying to help His Holiness in his responsible archpastoral ministry.
At the suggestion of His Holiness the Serbian Patriarch Porfirije the Holy Assembly of Bishops of the Serbian Orthodox Church, at its regular session on May 29, 2021, elected hieromonk Sava as the vicar Bishop of the Serbian Patriarch with the title Bishop of Marca.
The elected Bishop Sava of Marca, speaks French, Greek and Russian, and understands English.