Bishop Isihije solemnly enthroned on the throne of the Diocese of Valjevo
27. June 2021 - 19:44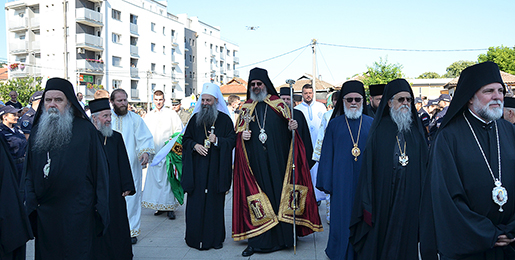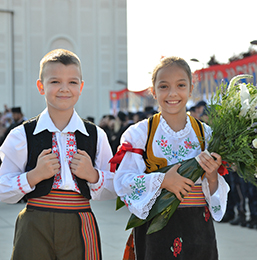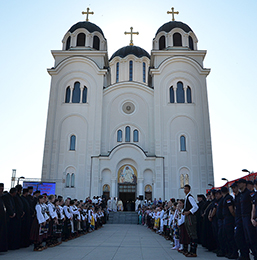 At the magnificent liturgical gathering in the church of the Resurrection of Christ in Valjevo, His Holiness Porfirije, Serbian Patriarch solemnly introduced to the throne of the Diocese of Valjevo His Grace Bishop Isihije of Valjevo, to whom the Holy Assembly of Bishops entrusted the spiritual care of the people of God at the May session in the homeland of the newly saints of the Church of Christ, Saint Bishop Nikolaj and the Venerable Abba Justin.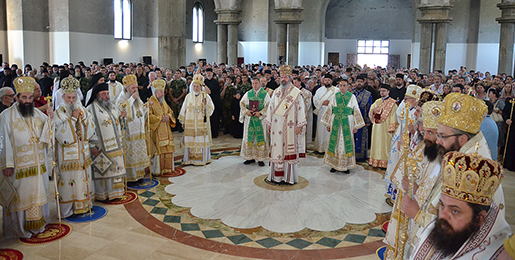 A great joy brought many faithful people of the Valjevo region to the diocesan Cathedral church to welcome their new archpastor, Bishop Isihije, who will begin his ministry in that traditionally church-related area in the fifteenth year since the renewal of the Diocese of Valjevo. To welcome and offer prayers for him, together with the first hierarch of the Serbian Orthodox Church and numerous hierarchs.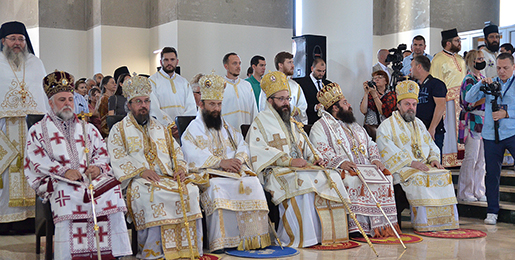 His Grace Bishop Isihije of Valjevo officiated the Holy Hierarchal Liturgy with the concelebration of His Beatitude Jovan, Archbishop of Ohrid and Metropolitan of Skopje; Their Graces Bishops Lavrentije of Sabac, Nikanor of Banat, Dositej of Britain-Scandinavia, Pahomije of Vranje, Fotije of Zvornik-Tuzla, Grigorije of Dusseldorf and Germany, Gerasim of Gornji Karlovac, Jovan of Slavonia, Ilarion of Timok, Arsenije of Nis, Siluan of Australia-New Zealand, Nikodim of Dalmatia, Heruvim of Osek-Polje and Baranja, Dimitrije of Zahumlje-Herzegovina, Metodije of Dioclea, elected Bishop of Budimlje-Niksic, Stefan of Remesiana, Marko of Bregalnica, retired Bishop Georgije of Canada and elected vicar Bishops Damaskin of Mohacs, Sava of Marca and Jerotej of Toplica, in the prayerful presence of His Grace Bishop Irinej of Backa, whose Vicar until the enthroenment to the throne of Bishops of Valjevo was Isihije.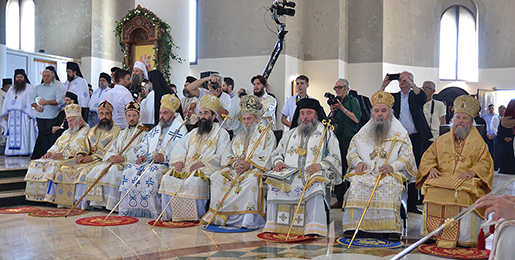 Numerous priests from many dioceses of the Serbian Orthodox Church concelebrated. The service was enhanced by chanting of the Choir of priests and theologians conducted by protonamesnik Branko Colic, the Church Choir "Hadzi Ruvim" and the Chamber Choir "Emanuel" with conductors Vanja Urosevic and Milica Stepanovic-Babamilkic, as well as the Choir of Kovilj monks whose brother until recently was the bishop Isihije.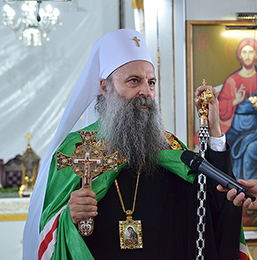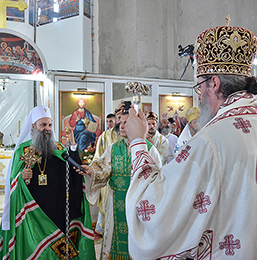 Among the numerous distinguished guests of the ceremony were the head of Serbian diplomacy, Mr. Nikola Selakovic, Mayor of Valjevo Mr. Lazar Gojkovic, representatives of local self-governments of the Kolubara district, the Serbian Armed Forces, the Ministry of Internal Affairs and public institutions.