Christmas Liturgy in Saint Sava Cathedral church in Belgrade
7. January 2022 - 21:23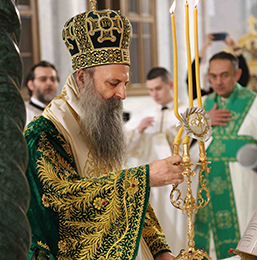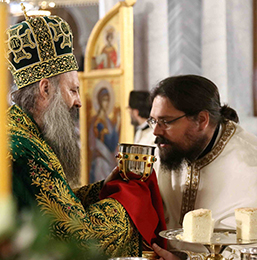 His Holiness Porfirije, the Serbian Patriarch officiated the Holy Liturgy in the Cathedral church of Saint Sava in the Vracar district, in Belgrade, on 7 January 2022., on the feast day of the Nativity of the Lord and Our Saviour Jesus Christ.
In the prayerful presence of His Grace Bishop Stefan of Remesiana, Vicar of the Serbian Patriarch; the Serbian Patriarch was concelebrated by Archimandrite Nektarije, protopresbyter-staurophor Velibor Dzomic, protosynchelloi Nektarije and Danilo, protopresbyters Zoran Rankovic and Ivan Strbacki, as well as deacons Radomir Vrucinic, Dragan Radic, Vladan Tatatalovic and Srboljub Ostojic.
The Christmas message of the Serbian Patriarch and all archbishops was read by the protosynchellos Nektarije, the Chief Secretary of the Holy Synod of Bishops of the Serbian Orthodox Church.
The Singing Society of the Cathedral church of Sava sang responses conducted artistically by Katarina Stankovic, PhD, as well as the Children's Choir Rastko conducted artistically by Milena Antovic.
The festal gathering was attended by President of the National Assembly of the Republic of Serbia, Mr. Ivica Dacic; Director of the Directorate for Cooperation with Churches and Religious Communities, Dr. Vladimir Roganovic; Deputy Mayor of Belgrade Mr. Goran Vesic; Archbishop of Belgrade Stanislav Hocevar, Prince Filip and Princess Danica Karadjordjevic.
The broadcast of the service was made possible by the editorial staff of TV Hram: