Consecration of Archimandrite Jovan for Bishop of Hum
12. October 2021 - 12:40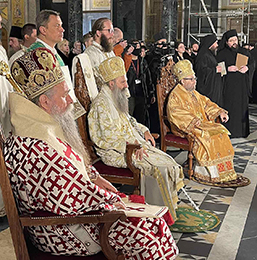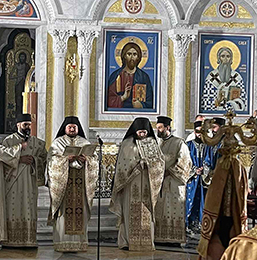 His Holiness Porfirije, Serbian Patriarch officiated the Holy Hierarchical Liturgy and the solem rite of consecration of Very Reverend Archimadnrite Jovan (Stanojevic) in the rank of Bishop of Hum, Vicar Bishop of Dusseldorf and Germany in the Cathedral church of Saint Sava in Belgrade on 10 October 2021.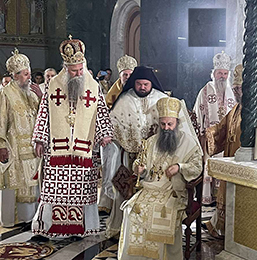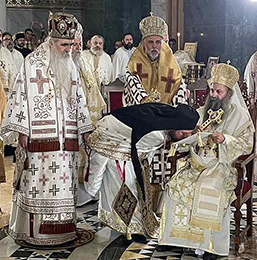 His Holiness Porfirije, Serbian Patriarch was concelebrated by: His Eminence Metropolitan Joanikije of Montenegro and the Littoral and Their Graces Bishops: Lukijan of Buda, Irinej of Backa, Pahomije of Vranje, Ignjatije of Branicevo, Fotije of Zvornik and Tuzla, Atanasije of Milesevo, Grigorije of Dusseldorf and Germany, Joakim of Polog-Kumanovo, Teodosije of Raska-Prizren, Gerasim of Gornji Karlovac, David of Krusevac, Nikodim of Dalmatia, Isihije of Valjevo, Dimitrije of Zahumlje-Herzegovina, Jerotej of Toplica, Justin of Hvosno, Damaskin of Mohacs and Sava of Marca.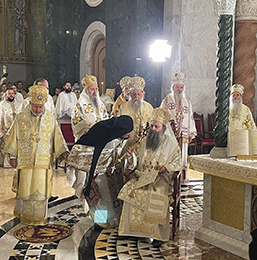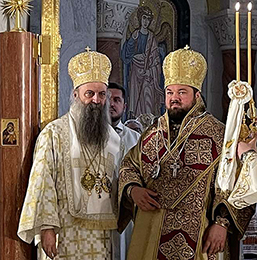 Besides the family and friends of Bishop Jovan and numerous clergy and monks from several dioceses of the Serbian Orthodox Church, the solemn act of ordination was attended by the Director of the Office for Cooperation with Churches and Religious Communities of the Republic of Serbia Dr. Vladimir Roganovic, Roman Catholic Archbishop of Belgrade Stanislav Hocevar, members of the diplomatic corps and prominent personalities from the cultural and public life of Serbia.