Consecration of Bishop Sava of Marca, Vicar of the Serbian Patriarch
4. October 2021 - 8:58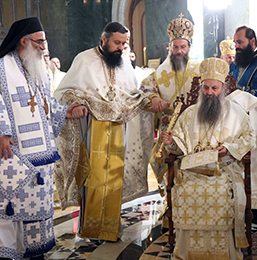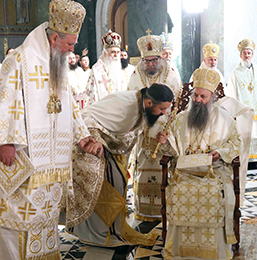 His Holiness Porfirije, Serbian Patriarch, officiated the Holy Hierarchical Liturgy and the solemn rite of the consecration of the elected and proclaimed Very Reverend Archimandrite Sava (Bundalo) to the rank of Bishop of Marca, Vicar of the Serbian Patriarch, at the Cathedral church of Saint Sava in Belgrade on 3 October 2021.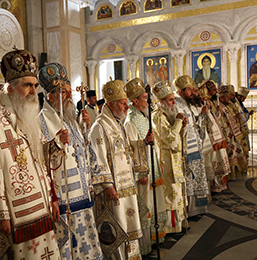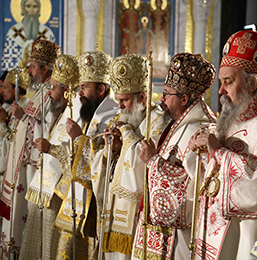 His Holiness Patriarch Porfirije was concelebrated by Archbishop Aristovoulos of Madaba from the Patriarchate of Jerusalem, Archbishop of Ohrid and Metropolitan of Skopje Kyr Jovan, Metropolitan Joanikije of Montenegro and the Littoral and Their Graces Bishops: Lukijan of Buda, Nikanor of Banat, Irinej of Backa, Dositej of Britain and Scandinavia, Pahomije of Vranje, Jovan of Sumadija, Ignatije of Branicevo, Fotije of Zvornik-Tuzla, Atanasije of Milesevo, Gerasim of Gornji Karlovac, David of Krusevac, Jovan of Slavonia, Sergije of Bihac-Petrovac, Ilarion of Timok, Arsenije of Nis, Nikodim of Dalmatia, Heruvim of Osijek-Polje and Baranja, Metodije of Budimlje-Niksic, Dimitrije of Zahumlje-Herzegovina, Antonije of Moravica, David of Stobi, Stefan of Remesiana, Jerotej of Toplica, Justin of Hvosno and Damaskin of Mohács.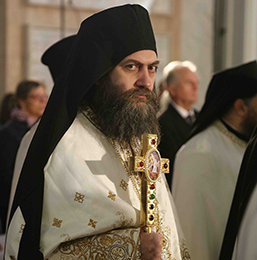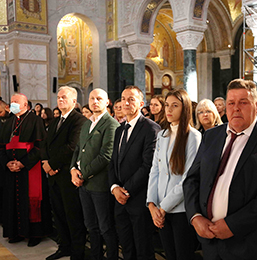 Besides the family and friends of Bishop Sava from Kriskovac, Srbac and Zagreb, numerous priests and monks from several dioceses of the Serbian Orthodox Church and associates from the Serbian Patriarchate, the solemn act of ordination, was attended by representatives of the authorities of Republika Srpska, abbot of the Hilandar Monastery Archimandrite Metodije, Elder Nikodemos from the Athonite monastery of Saint Paul, guests from the Patriarchate of Antioch and the Moscow Patriarchate, Roman Catholic Archbishop of Belgrade Stanislav Hocevar, representatives of traditional churches and religious communities, members of the diplomatic corps and prominent personalities from the cultural and public life of Serbia.