DECR Chairman meets with Holy See Secretary for Relations with States
12. November 2021 - 12:17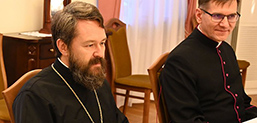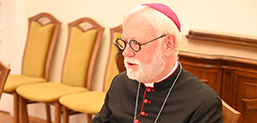 On November 9, 2021, with the blessing of His Holiness Patriarch Kirill of Moscow and All Russia, Chairman of the Moscow Patriarchate Department for External Church Relations Metropolitan Hilarion of Volokolamsk met with the Holy See Secretary for Relations with States, Archbishop Paul Richard Gallagher who came to Moscow for Russian-Vatican consultations between the external policy departments.
The meeting took place at the Apostolic Nunciature in the Russian Federation with the participation of Apostolic Nuncio Archbishop Giovanni d'Aniello; Mons. Peter Tarnavsky, Apostolic Nunciature adviser; Mons. Paul Butnaru, staff member of the Holy See Secretariat of State; and Mr. I. A. Nikolaev, a staff member of the DECR.
Metropolitan Hilarion greeted Mons. Gallagher stressing the importance of developing contacts of the Russian Orthodox Church with the Holy See Secretariat of State. In his turn, Archbishop Gallagher expressed delight over the opportunity to meet with the DECR chairman and to discuss pressing issues of the bilateral interaction.
The sides discussed a wide range of issues of common concern. Metropolitan Hilarion informed his interlocutor in detail about the progress made in the rebirth of church life in the post-Soviet space and in the territory of Russia and about the Russian Orthodox Church's position on several aspects of inter-Orthodox and inter-Christian relations.
In conclusion of the talk, Metropolitan Hilarion and Archbishop Paul Richard Gallagher exchanged tokens of the meeting.
Source: DECR Communication Service/Patriarchia.ru