Forty-day memorial service for Bishop Lavrentije
4. March 2022 - 15:09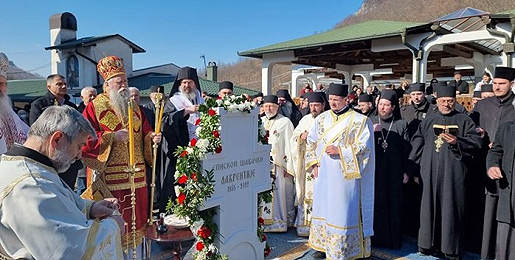 - Persistence in serving the Lord can be seen in the entire life of Bishop Lavrentije of Sabac of blessed repose. Eighty-seven years of his life were laid on the altar of the Lord, Metropolitan Joanikije said.
With the blessing of His Grace, Bishop Fotije of Zvornik-Tuzla and administrator of the Diocese of Sabac, His Eminence Metropolitan Joanikije of Montenegro and the Littoral officiated the Holy Hierarchical Liturgy in the Holy Monastery of St. Nicholas of Ohrid in Soko Grad onon March 3, 2022, on the feast of Saint Leo, Bishop of Rome.
His Eminence was concelebrated by His Grace Bishop Teodosije of Raska-Prizren, numerous clergy, deacons, and faithful people of God who gathered in the endowment of Bishop Lavrentije of blessed repose. His Grace Bishop Isihije of Valjevo prayerfully attended the eucharistic gathering.

Following the Liturgy, Metropolitan Joanikije celebrated a memorial service on the occasion of the forty days since the demise of Bishop Lavrentije. Bishops Teodosije and Isihije, numerous clergy and priesthood concelebrated to the Archbishop in the presence of a large number of the believers from every corner of the Diocese of Sabac and outside the Diocese.
Source: Diocese of Sabac
Video: https://www.youtube.com/watch?v=0o53c5DJU-0