How good and how pleasant it is for brethren to dwell together in unity!
23. September 2021 - 9:59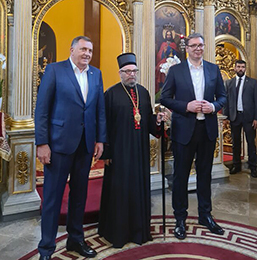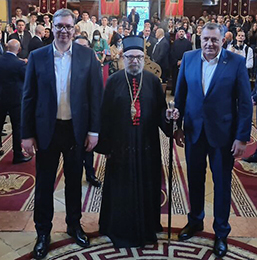 His Grace Bishop Lukijan of Buda welcomed President of the Republic of Serbian Mr. Aleksandar Vucic and Serbian member of the Presidency of Bosnia and Herzegovina Mr. Milorad Dodik at the church of Holy Greatmartyr George in Budapest on 22 September 2021.
- In the name of the clergy, monastics and the faithful people in Hungary, I have the honour to greet two of our leaders and fighters for their people. The Holy Scripture says: How good and how pleasant it is for brethren to dwell together in unity, and you, dear presidents, testify to that. It is not easy for you, people may not know, but God sees everything and knows everything, and you did well to enter the house of God this time as well, and that is exactly the church of St. George the Victory-bearer. When you enter the mill, you can't help but pick up at least a little flour, and in the church, God's help, which you definitely need with our support. You are doing great deeds by strengthening the friendship of the Hungarian and Serbian people, and especially with your aid to the Diocese of Buda. We remember everything with gratitude for what you have done and what you will definitely do in the years to come. For many years, Bishop Lukijan said.
President Vucic and Mr. Dodik thanked His Grace for the warm welcome and prayed for the good of the Serbian people wherever they were, especially in Kosovo and Metohija in the days of great temptations.
The welcome of distinguished guests was attended by Mr. Ljubomir Aleksov, Serbian MP in the Hungarian Parliament, and prof. Dr. Jovanka Lastic, director of the Serbian School Nikola Tesla in Budapest.
The President of Serbia will participate in the fourth Demographic Summit in Budapest and have separate meetings with the Prime Minister of Hungary, Viktor Orbán, and the Prime Ministers of Slovenia and the Czech Republic.
Source: Diocese of Buda