International Photography Competition "Heritage of Stone and Heaven"
6. November 2021 - 9:18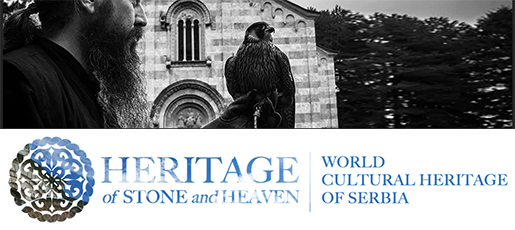 Art Exchange Inc, a non-profit organization, announces photography competition "Heritage of Stone and Heaven –world cultural heritage of Serbia" and invites photographers from all over the world to submit their photogarphs depicting world cultural heritage in Serbia as designated by the United Nations Educational, Scientific and Cultural Organization (UNESCO).
The submission period is open between October 25, 2021 and December 30, 2021. Submission guidelines can be found HERE. The UNESCO World Heritage List includes cultural assets whose uniqueness, beauty and significance for people's lives transcends national and regional boundaries and which constitute heritage of all humanity. They are places which we inherited from our ancestors and which we carefully preserve for future generations.
The call for entries is open for submissions inspired by landmarks that are declared UNESCO World Heritage Sites in Serbia: medieval Serbian Orthodox monasteries Studenica and Stari Ras with Sopoćani, medieval monuments in Kosovo and Metohija – Serbian Orthodox monasteries Visoki Dečani, Patriarchate of Peć, Gračanica and church Our Lady of Ljeviš, the Gamzigrad / Felix Romuliana landmark from classical antiquity and unique tombstones specific to this part of the world known as stećci.
Photographs can also depict Serbian traditions that found their place on the UNESCO list of Intangible Cultural Heritage of Humanity: Slava, Kolo and Singing to the accompaniment of the gusle as well as Serbia's documentary heritage that has been inscribed in the UNESCO Memory of the World register. More information about world cultural heritage of Serbia can be found HERE.
Members of the Jury are:
Svetlana Rogić, the founder and president of Art Exchange Inc, studied photography at the International Center for Photography in New York City with some of the world's most renown contemporary photographers and holds a Master's degree in Arts Management from American University in Washington, DC.
Živojin Rakocević, a poet and journalist, is Director of the Gračanica Cultural Center and President of the Association of Journalists of Serbia.
Iwan Bagus, Indonesian photographer, Head of the photography division at the University of the District of Columbia and professor of photography at American University in Washington, DC.
The competition will award monetary prizes to the first, second and third place winners in the amounts of US$1000, US$500 and US$300 respectively.
The first, second and third prize winners and finalists will see their work exhibited at exhibitions, to be held in Washington, DC and Belgrade, Serbia in 2022. All awarded photographers and finalists will be presented in the annual catalogue of this competition. A unique printed monograph will be made available for purchase and distributed worldwide.
The organizer of the photo competition is Art Exchange Inc. with media support thus far from: The Embassy of the Republic of Serbia in Washington, DC, Serbian Orthodox Church of St. Luke in Washington DC, Eastern Diocese of the Serbian Orthodox Church, Photo Association of Serbia, Association of Journalist of Serbia, Association for preservation of tradition and culture of the Valjevo region, Politika daily, multimedia portal Kosovo Online, Radio Kosovo and Metohija, Radio SovoLjubve.