Memorial service for the victims of the criminal action "Storm"
5. August 2021 - 8:39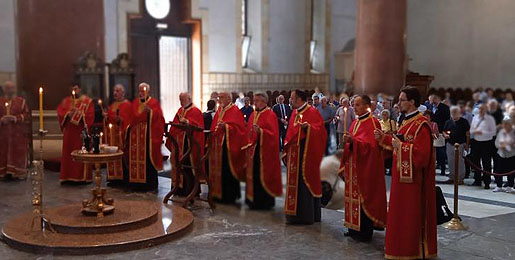 The Day of Remembrance of all Serbs who died and were expelled in the Storm, a criminal armed action of the Croatian army and police in August 1995, began with a memorial service held in the Belgrade church of Saint Mark., on 4 August 2021.
Priests Nedeljko Marjanovic, Milos Micic and Slavko Stevanovic, who were also part of an endless column of refugees with their families, served the memorial service for the innocent victims. "Today we gathered in the church of St. Mark, which was our landmark in the days when we escaped to this capital city of ours. We found consolation here, we prayed here and expected to see our loved ones who we did not know where they were at that moment, "said Father Milos Micic, recalling the evil time when hundreds of thousands of expelled people found salvation in Serbia and Republika Srpska. "Unfortunately, thousands of our brothers and sisters died and remained to rest in their homeland. Today we have prayed that the Lord may rest their souls with the saints."