Patriarch Porfirije: The cross is a symbol of the crucifixion, but at the same time a symbol of victory
27. September 2021 - 16:07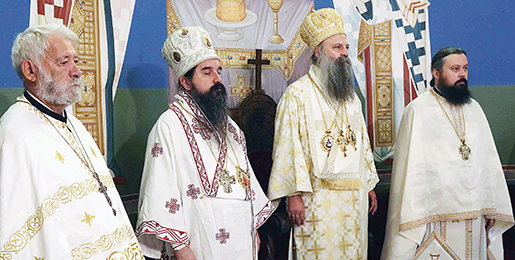 His Holiness Porfirije, Serbian Patriarch officiated the Holy Hierarchical Liturgy in the Monastery of the Presentation of the Most Holy Mother of God in Belgrade, on September 27, 2021, on the feast of the Exaltation of the Holy Cross.
His Grace Bishop Jerotej of Toplica, the elected Bishop of Marca, Archimandrite Sava, with the clergy of the Archbishopric of Belgrade and Karlovac concelebrated to the Patriarch.
- Taking the Cross of Christ means overcoming one who is fierce, proud, sinful, and that means overcoming a man who knows that the truth is in Christ, but who - although he would follow Christ with one foot - follows the rules and principles of this world with the other foot. To crucify oneself means to renounce this world, but not the world as a gift of God in the evangelical sense of the word, but the world that lies in evil, Patriarch Porfirije spoke and emphasized:
-Today we celebrate the sign by which we Christians recognize and distinguish ourselves from the world. Our Church today celebrates a cruciform, special, different way of life from the life on which the world outside the Church is founded. We know and celebrate the Cross through the Church as the symbol of the crucifixion, but also as a symbol and sign of victory, because the Lord wanted to show that the power of this world is not something on which the meaning of our existence is based, that the wisdom and science of this world are not principles on which the spiritual, inner man is built and grows and on which salvation is achieved and the Kingdom of God is recognized already now and here in history and among us.
Source: Radio Slovo Ljubve