Patriarch Porfirije: Evil has recorded another gain for itself, man has been defeated, and God who wants peace among people has been betrayed once again, and to what extent!
5. August 2021 - 11:00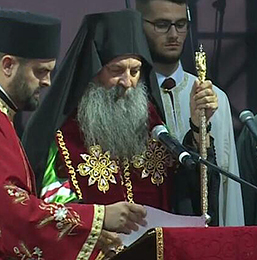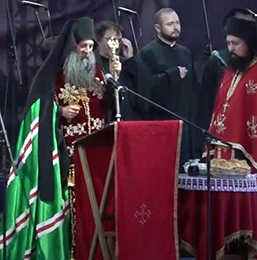 Sermon of His Holiness Porfirije, the Serbian Patriarch, held in the Zemun's suburb of Busije after the commemoration for the Serbs who died in the criminal operation Storm of the Croatian army and police.
In the name of the Father and of the Son and of the Holy Spirit,
We have gathered here in the name of God, dear brothers and sisters, to pray to the risen Lord Jesus Christ to receive into his arms all our relatives, neighbors, fellow citizens, innocent victims of the terrible August days of the 1995; including those that have suffered before that: from the Zadar Crystal Night, through the suffering in Medak and the villages of Lika, to Pakrac and West Slavonian villages. All innocently murdered in towns and villages, on streets and fields, in houses and apartments. We have gathered to remember in prayer the unprecedented violent exodus of our people from the area of ​​Dalmatia, Banija, Kordun, Lika and western Slavonia. All of that is only a tessera in the mosaic of our recent sufferings and crucifixions, along with Jadovno, Jastrebarsko, Mlaka, Glina and Jasenovac – the horrible death camp from which the last few survivors are with us today, and in front of whose sufferings we bow to the ground, kissing their feet. Mystically present among us is also Saint Martyr Vukašin of Jasenovac from Klepci, whose moving words: "My child, you do your job!" – addressed to a monster deprived of any human likeness, who was cutting off the saint's body parts, are the example of the paradoxical triumph of the just victim over evil, as well as the revelation of God's logic that is incomprehensible to the human mind, which reveals itself as the mystery of the Cross and Resurrection. That is why, having the experience of God's justice and love, the blessed Patriarch German could say at that place: "We must not forget, but we must forgive".
As the Metropolitan of Zagreb and Ljubljana, I have on many occasions travelled to Dalmatia, and I fell in love with this rugged, tight, but also blessed country. There are only a few places beside this one where I felt like being so close to heaven. I met and loved its people as my brothers – both honorable Orthodox Serbs and many good Croats, people who were directed at each other in this area for centuries, living together, enriching each other, andeven becoming relatives, but also having misunderstandings and conflicts, and nevertheless managing to find ways to move forward, together. I am sure that many of you, despite the pain and sorrow you bear because of your loved ones who suffered death, because of the memory of the abandoned homes and hearths, still share my experience. Therefore, I wonder: who has gained advantage by your persecution? All that remained was desolate, empty, uncultivated land. Evil has registered another gain, man has been defeated, and God who wants peace among people has been betrayed once again, and to what extent!
We have gathered today to say out loud that we do not forget those areas where we fed on mother's milk, and not only us, but also our ancestors, who were for centuries being born in Dalmatia, Kordun, Lika, Banija, Slavonia, in towns and villages throughout the present Croatia. We still keep in our hearts Dalmatian monasteries built by the Nemanjić family throughout the thirteenth and fourteenth centuries, and other shrines in which we gather, coming from all over the world, as well as the towns and villages built by our ancestors; we do not forget the uskoks about whom songs were written and who defended that country, neither all those who protected Europe from the Turks at the military border. We remember Petar Preradović, Vladan Desnica, Nikola Tesla, Milutin Milanković, and every artist, scientist, philosopher, who contributed to the culture of not only the Serbian people, but also of the Croatian and all peoples of the world. I know that you have built a new nest here, but that your heart and soul still dwells in your Dalmatia and other regions.
While praying today for those who have suffered death, for our loved ones, we do not want to abuse the victims to deepen the spiral of conflict, neither to wage wars through commemorative policies of remembrance, and even less do we want to enter the matrix of despair and to get paralyzed by imprisoning ourselves into a permanent, helpless and hopeless state of being victim. Taken as the only one that is possible, the narrative of being victim cannot be the initiator and source of inspiration. It is rather a permanent torment and hell. Such a narrative abolishes the ability to ascend and continue living life to the fullest. Here in Busije, you have built houses, a school, a holy church, a large infirmary; you are raising children for an even better and happier life, and in spite of everything, you are looking to the future with hope and optimism. You are role models for all of those who were forced to leave their homeland, as well as for others who have less problems than you, demonstrating to them how they may also rise up and continue foreward creatively. Our people have so many times, precisely through suffering and sacrifice, conquered the experience of freedom and resurrection, reaching the maximum limits of human and Christian existence on earth. As Christians, we know that in Christ every innocent sacrifice is already here and now a part of the Glory and Triumph. The Cross of Christ is the sacrifice par excellence, just as His resurrection is the victory par excellence. In that sacrifice and victory we find hope for the ultimate justice of God, even when human justice fails. From the earliest times, the Apostle Paul testified that, unlike those who seek signs and wisdom, we Christians "preach Christ crucified", "the power and wisdom of God", which is a stumbling block to some and foolishness to others. The final judgment does not belong to us, but to God's just love. In the light of Christ's words – "Blessed are those who hunger and thirst for righteousness, for they will be filled" – we need to understand from where did Vukašin from Klepci, enduring terrible pain and suffering, draw strength and peace, like so many sufferers from our kin.
By believing in the love of Christ, through prayer and evangelical life, through the cross and suffering, we too can outgrow ourselves and renew ourselves as people dear to God, knowing who and what we are, respecting and cherishing our own kin, and treating the other and different ones with respect. The only question is – are we Christians, and is the word of God authoritative for us? If we are true and not nominal Christians, then we will do our best to build peace despite all the difficulties. In such an endeavor, illuminated by heavenly justice – in which the correction of historical injustices will happen according to criteria that are not conceivable to our mind, and which will administer to everyone according to his deeds – we do not need self-proclaimed peacemakers as intermediaries, because they are often guided by interests that are unknown to us. Under the cloak of peacemaking, they often impose formulas of our misunderstandings with others, in the guise of linguistic, semantic and thought camps, in which they then forcibly place us and define us forever. In that way, not only do they not help, but they create bigger polarizations and insurmountable gaps. We essentially need the crucified and risen Christ, His peace and justice – that is the only language we will really speak so that everyone can hear us and which will truly comfort us.
We pray for that peace today. We need to remember our loved ones who suffered death, but we must not hold grudges! Revenge and hatred kill the one who is obsessed with them. Therefore, while we prayerfully remember our fallen parents, brothers, sisters, children, machine-gunned on Petrovačka cesta and elsewhere, let us direct at least one thought to the Lord to accept and embrace other innocents who suffered death in the tragic war, regardless of which religion or nation they belong to. God does not count whose victims are more and whose are less numerous, for all the victims are the same before Him, whether their names are Jovan, Jozo or Jusuf. And when we prayerfully remember our fallen neighbors, Croat Catholics, Bosniak Moslems, our loved ones will rejoice in heaven, because they will see that we, being enlightened by Christ, understood the tragedy of historical conflicts. Christ himself obliges us to that, He who in the eternally valuable series of beatitudes on the Mountain – as a ladder that ascends to heaven – immediately after that "blessed are the hungry and thirsty for righteousness", added "blessed are the merciful, for they will be shown mercy". And after that, blessed are peacemakers, brothers and sisters, because they will truly show themselves as sons of God. Not to stop starving and thirsting for God's justice, but to be merciful and peaceful – that is the evangelical path given to all Christians, and I deeply believe, to all the people. That is why we pray that there will be no more failures in its realization.
I pray, carrying you all in my heart, that with our faith, hope and love we may be greater than the perpetrated evil that humiliated us all, and that, without vengeful thoughts, giving way to God's justice, we keep the pure memory of our innocent victims, heal wounded souls, build trust and understanding among individuals and nations, and thus, through the Gospel, lay solid foundations for a better and more just future for each individual and each nation.

Today, we commemorated all the victims, which, however, is also a warning and an invitation with all our might to oppose every persecution and pogrom, of anyone anywhere!

Memory eternal to all our brothers and sisters who suffered death in the military operation Storm!