Patriarch Porfirije receives Coptic Bishop of Central Europe
26. October 2021 - 8:11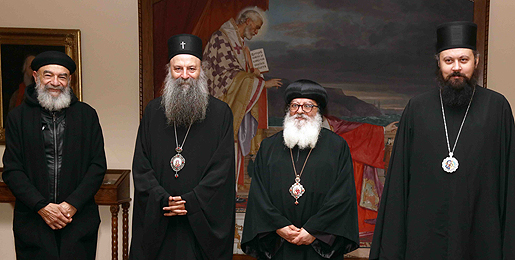 His Holiness Porfirije, Serbian Patriarch received His Grace Bishop Giovanni of Central Europe of the Coptic Orthodox Church in the Serbian Patriarchate in Belgrade, on 25 October 2021.
Having conveyed the greetings of His Holiness Patriarch Tavadros II, the Primate of the Coptic Orthodox Church, the guest informed the Serbian Patriarch that the Orthodox (pre-Chalcedonian) Church, which consists of about twelve million Coptic Christians mostly living in Egypt, founded the Diocese of Central Europe, which covers a wide area from Venice to Italy, Austria, Hungary, the Czech Republic, Slovakia and Poland to Romania.
Patriarch Porfirije pointed out that, guided by the all-time principles of Christian love, the Serbian Orthodox Church will provide both prayerful support and any other help needed by the suffering Coptic Church, which has withstood persecutions and trials for centuries.