Patriarch Porfirije served Matin of Holy Saturday
23. April 2022 - 17:32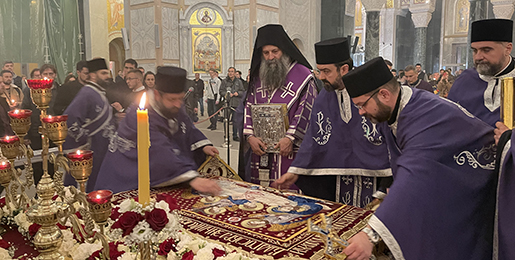 His Holiness kyr Porfirije, the Serbian Patriarch, served the Matin of Great Saturday at the Saint Sava Cathedral Church in Vračar, Belgrade.
In the prayerful presence of His Grace Bishop Stefan of Remesiana, the brotherhood of the church concelebrated to the Patriarch. The service commenced with the Little Vesper with the Canon to the Crucified Christ, also known as The Lamentation of the Mother of God. Following that the Matin of Great Saturday was served. Afterwards, the Patriarch led a procession with the Shroud around the Church and read a passage from the Gosperl of Matthew.
Ο Πατριάρχης Σερβίας κ.κ. Πορφύριος ιερούργησε στην ακολουθία του Όρθρου του Μεγάλου Σαββάτου
Τη Μεγάλη Παρασκευή, 22 Απριλίου 2022, ο Αγιώτατος Πατριάρχης Σερβίας κ.κ. Πορφύριος χοροστάτησε στην Ι. Ακολουθία του Όρθρου του Μεγάλου Σαββάτου (Εγκώμια) στον Καθεδρικό Ιερό Ναό Αγίου Σάββα στο Βράτσαρ. Επίσης, χοροστάτησαν οι Πατέρες του Ιερού Ναού, ενώ παρέστη συμπροσευχόμενος ο Θεοφιλέστατος Επίσκοπος Ρεμεσιάνα κ. Στέφανος. Η Ακολουθία ξεκίνησε με το Μικρό Απόδειπνο και τον επιτάφιο θρήνο της Παναγιάς, εν συνεχεία τελέστηκε η Ακολουθία του Όρθρου του Μεγάλου Σαββάτου (Εγκώμια). Πραγματοποιήθηκε η λιτανεία του Ιερού Επιταφίου πέριξ του Ιερού Ναού και μετά την επάνοδο του Ι. Επιταφίου στην εκκλησία αναγνώστηκε η περικοπή από το κατά Ματθαίο Ευαγγέλιο.