Patriarch Porfirije served in Saint Sava Cathedral church on Easter Monday
25. April 2022 - 15:02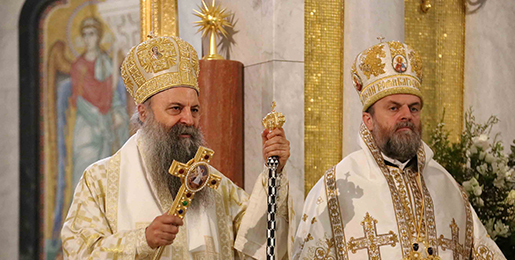 His Holiness kyr Porfirije, the Serbian Patriarch officiated the Holy Hierarchical Liturgy in Saint Sava Cathedral church in Vracar, Belgrade on 25 April 2022, on Easter Monday.
The Patriarch was concelebrated by His Grace Bishop kyr Stefan of Remesiana, archpriests Dragan Šovljanski and Ivan Štrbački, presbyters Branislav Kličković and Dalibor Stojadinović, protodeacons Mladen Kovačević, Dragan Radić and Radomir Vrućinić and deacon Siniša Duvnjak (photo gallery).
Πατριάρχης Σερβίας κ.κ. Πορφύριος ιερούργησε τη Δευτέρα της Διακαινησίμου εβδομάδος στο Καθεδρικό Ιερό Ναό Αγίου Σάββα
Τη Δευτέρα της Διακαινησίμου εβδομάδος, 25 Απριλίου 2022, η Αυτού Αγιότης, ο Πατριάρχης Σερβίας κ.κ. Πορφύριος προεξήρχε της Αρχιερατικής Θείας Λειτουργίας στο Καθεδρικό Ιερό Ναό Αγίου Σάββα στο Βράτσαρ.
Συλλειτούργησαν ο Θεοφιλέστατος Επίσκοπος Ρμεσιάνα κ. Στέφανος, πρωθιερείς π. Ντράγκαν Σβολιάνσκι και π. Ίβαν Στρμπάτσκι, ιερείς π. Μπράνισλαβ Κλίτσκοβιτς και π. Ντάλιμπορ Στογιαντίνοβιτς, οι πρωτοδιάκονοι π. Μλάντεν Κοβάτσεβιτς, π. Ντράγκαν Ράντιτς και π. Ράντομιρ Βρούτσινιτς, καθώς και ο διάκονος π. Σίνισα Ντούβνιακ.
Патриарх Порфирий во Воскресный Понедельник богослужил в Соборном храме Святого Саввы.
Его Святейшество Патриарх Сербский г-н Порфирий начальствовал 25 апреля 2022 годо во Воскресный Понедельник Священной архиерейской Литургией в Соборном храме Святого Саввы на Врачаре. Его Святейшеству сослужили Его Преосвященство епископ Ремесианский г-н Стефан, протоиереи Драган Шовлянский и Иван Штрбачский, иереи Бранислав Кличкович и Далибор Стоядинович, протодьяконы Младен Ковачевич, Драган Радич и Радомир Вручинич и дякон Синиша Дувняк.