Patriarch Porfirije served in Tuman Monastery
17. May 2021 - 8:42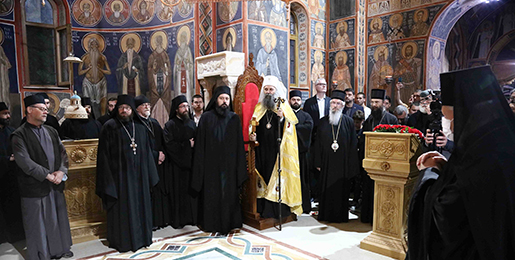 His Holiness Porfirije, Serbian Patriarch, celebrated the Holy Hierarchal Liturgy in the Tuman Monastery, on 16 May 2021, on the Sunday of Myrrh-Bearing Women.
The Patriarch was concelebrated by Their Graces Bishops Jovan of Sumadija, Bishop Ignatije of Branicevo and Ilarion of Timok, with the monastics and the clergy from many dioceses.
The faithful gathered from all sides to receive the blessing of the Serbian Patriarch. His Holiness taught the people the truths of the faith, based on the resurrection of Christ and life in the liturgical community.

After the Holy Liturgy, a solemn agape feast and service was organized for all those present with the work and love of Archimandrite Dimitrije and the brotherhood of the Tuman Monastery.