On Ascensioin Day the Patriarch celebrated in the Ascension Church
11. June 2021 - 9:09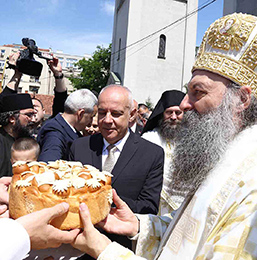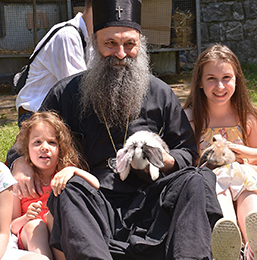 Patriarch Porfirije: If we have not caught the hand of Christ, we are losers in advance. If we hold fast to the hands of Christ, we are victorious in advance!
On June 10, 2021, on the feast of the Ascension of the Lord - Ascension Day, His Holiness Porfirije, Serbian Patriarch, served the Holy Hierarchal Liturgy in the Ascension Church in Belgrade. The elected Bishop Sava of Marca Sava (Bundalo), the abbots of the Hilandar and Studenica monasteries, Archimandrites Metodije and Tikon, hierodeacon Nektarije, protopresbyter-staurophor prof. Dr. Vladimir Vukasinovic, protodeacon Stevan Rapajic and Deacon Radomir Vrucinic in the prayer participation of the faithful and the brotherhood of the Ascension church, led by the elder archpriest Arsenije Arsenijevic. The choir of the of Ascension church, conducted by Jelena Cvoro, sang responses.
After the Holy Liturgy, the Patriarch led a procession around the Church of the Ascension, and then served a memorial service near the marble cross in the gate that commemorates the victims of Belgrade in the Nazi bombing in April 1941.
After the commemoration, the Patriarch, on the occasion of the celebration of the City of Belgrade, with the host of the celebration, the mayor prof. Dr. Zoran Radojicic blessed the slava cake in the gate of the Ascension church. His Holiness wished all the inhabitants of the first capital city of Belgrade happy Patron Saint-day and God's blessing, and then, together with the head of the Ascension Church, archpriest Arsenije Arsenijevic, he thanked those deserving of selfless help and great love for the Church of the Ascension.
After the agape feast, Patriarch Porfirije continued to socialize with numerous children on the lawn in the gate of the Ascension Church and spent some time talking to them. Also, Patriarch Porfirije, with a lot of love, at the request of the editor-in-chief of Radio Slovo Ljubve, archpriest Arsenij Arsenijevic, did a great honor and joy to the members of the editorial board of the radio station of the Archbishopric of Belgrade and Karlovci.
Many faithful people participated in the worship services, first welcoming the head of the Serbian Orthodox Church at the gate of the Ascension Church, and then after him and with him entering the famous shrine which was built with their desire, love, work and contributions by the inhabitants of the capital in 1863. with the blessing of Metropolitan Mihailo of Belgrade and by the order of Prince Mihailo Obrenovic.
Source: Radio Slovo Ljubve