Patriarch's Message to the faithful at the beginning of the the Dormition Fast - Social media are a roof from which we convey the Word of God to all
16. August 2021 - 9:08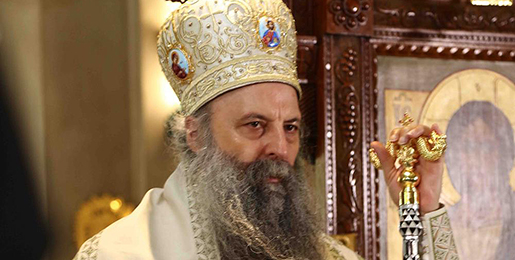 Brothers and sisters,
Dear friends,
I felt obliged to address you now, first of all, to wish the Orthodox a blessed beginning of fasting dedicated to the Most Holy Mother of God and the glorious event of Her Dormition, that is, the end of her earthly life and her taking up into Heaven. I wish you to spend the next ten days, as much as possible, in peace, to joyfully celebrate the upcoming feast of the Transfiguration of the Lord, and to pray for your neighbors, for our family and the whole world to the Most Holy Mother of God whose soul is, as shown in the magnificent fresco of Sopocani, in the hands of her beloved Son, the Savior of the world.
Another reason is the great interest in the page "Patriarch Porfirije", which was opened on Instagram with my blessing and participation. Indeed, I was sincerely glad that in the first few hours, more than 10,000 interested people started following that page. Many faithful, then journalists and other friends, were interested in that through the Information Service of the Church, through my office, and also through me personally, and I will answer using the arranged questions of the respected Mr. Slobodan Maricic, journalist of the editorial staff of the BBC News Serbian.
1. On the still unanswered question "how and why was it decided that the Patriarch opens the Instagram?", It was said the day before yesterday that the Patriarch wants to meet the strong interest of the faithful, but also the entire domestic and foreign public, about his work attitudes and opinions ". Today, I will supplement the answer with the well-known conclusion that not only traditional, linear media (print, radio and television), but even Internet portals and sites lag behind the so-called social media, and my opinion is that Instagram is the most effective in that regard. I will also call for help the words of the Lord Christ himself, who, defining the mission of the Church in the world, said to the apostles: "What I tell you in the dark, speak in the daylight; what is whispered in your ear, proclaim from the roofs."(Mt 10:27). Today, social media is the roof from which we convey the Word of God to all.
2. BBC journalist Mr. Maricic and other friends are also interested in "what content will we upload there?". The intention is through words on any important current topic and appropriate illustrations send the message of the Gospel, the saving word of Christ, to the faithful of the Serbian Orthodox Church, but also to other interested people in our countries and regions, but also around the world, which represents the official role of the Church in the world.
3. And, finally, to the question "whether other similar steps are planned", with satisfaction I emphasize that, together with my associates, I intend to improve the mission of the Church using all the tools that modern technology makes available to us.
Your friend in Christ,
+Porfirije