Prayerful farewell of the great benefactor of the Church and the people
6. August 2021 - 15:50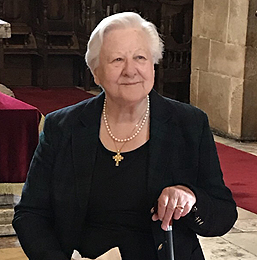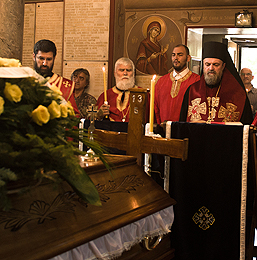 On the feast of St. Mary Magdalene, with the blessing of His Holiness Porfirije, Serbian Patriarch, His Grace Bishop Stefan of Remesiana served the funeral service for the newly departed handmaid of the Lord, Mirjana Matović, in the church of St. Nicholas at the New Cemetery.
Mirjana Matović, a native of the vicinity of Cacak, was a retired doctor, the daughter of a priest, a Belgrade medical specialist, a great benefactor and the founder of the Church of Saint Sava, the holder of the Order of Saint Sava. However, this enumeration does not exhaust the numerous virtues that she acquired and inherited. She was also an excellent wife, aunt, friend, and a recognized expert in her profession. Although she was childless, God rewarded her and she was a "grandmother Mira" to many children because, as the real grandmother, for decades she selflessly helped and educated talented and those children who had no one to support them, which was emphasized in a eulogy by her longtime parish priest from Wuppertal, Father Jovan Marić.
During the solemn funeral service, the Bishop, in addition to Father Jovan, was assisted by the current parish priest Zoran Ilić from Wuppertal and the Belgrade parish priest Sreten Mladenović, since Mrs. Mirjana and her husband, the late Dr. Matović, have lived mainly in Belgrade in recent years. Also, one deacon also concelebrated, from those children to whom the Matovics, due to their care and generosity, became a family.
There was no sadness even though there were many tears at the New Cemetery that afternoon. Not because Mrs. Mirjana counted almost to her ninety-second birthday, but because, as Bishop Stefan excellently emphasized in his greeting, it is simply joyful when we are able to pray and see off a Christian soul whose service to others is complete devotion to her family and life in and around the Church was everything and the greatest joy of life.
She spent her working life as a gynecologist in the town of Remscheid, the birthplace of the great X-ray, where she enjoyed, although abroad, a great reputation as an expert, partly because she never agreed to intentionally interrupt the life of a child in the womb.
"Rejoice, you childless one, you who bear no children, burst into song and shout, you who endure no birth pangs; (Gal. 4:27) for you have many more children. Late Slavoljub and Mirjana bequeathed all their property to the Church to continue to help students and schoolchildren through home care. About everything they did during their lives and what will continue to be done in their name for the benefit of children and young people will be said on another occasion.
We believe that Slavoljub is just welcoming Mirjana in Heaven and that they are standing together before the face of the Lord!
Source: RCG