Press Release
24. January 2022 - 17:53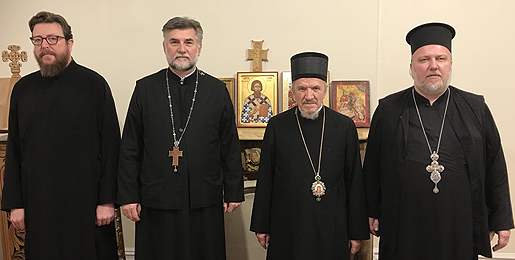 By the decision of the Holy Synod of Bishops of December 21, 2021, to restore church order and unity among parishioners entrusted to the spiritual care and temporary management of His Holiness the Serbian Patriarch Mr. Porfirije, the handover of the parish and the church-school community took place in the premises of the Cathedral of Saint Sava in New York, from January 14 to 18, 2022..
Executing the decision of the Holy Synod of Bishops, the parish, and the Church-School Community of Saint Sava in New York, in the name and with the authorization of His Grace Bishop Irinej of East America was handed over by protopresbyter-staurophor Aleksandar Vlajkovic, the Diocesan deputy of Washington. On behalf of His Holiness, Porfirije, the Serbian Patriarch, they were received by His Grace Bishop Mitrofan of Canada, protopresbyter-staurophor Dr. Velibor Džomić and Archimandrite Nikifor (Milović).
During their stay in New York, His Holiness's envoys celebrated in the Greek church of St. Eleftherios in downtown Manhattan. On that occasion, the faithful people were informed about the handover and called to keep their faith, identity, and brotherly love in Christ the Lord.
From the office of the Serbian Patriarch