Second day of the myrrh cooking in the Serbian Patriarchate
20. April 2022 - 11:45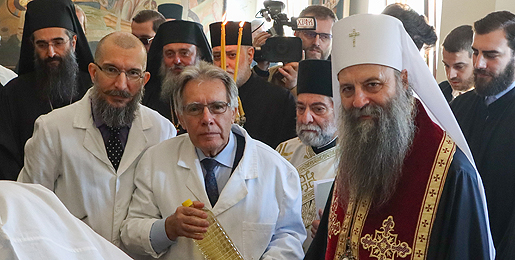 In the presence of His Holiness Porfirije, the Serbian Patriarch, His Grace Bishop kyr David of Kruševac, a member of the Holy Synod of Bishops of the Serbian Orthodox Church, celebrated the Holy Hierarchical Liturgy of the Presanctified Gifts in the Patriarchate Chapel of Venerable Simeon the Myrrh-Gusher on Holy and Great Tuesday, 19 April 2022.
photo gallery 1 + photo gallery2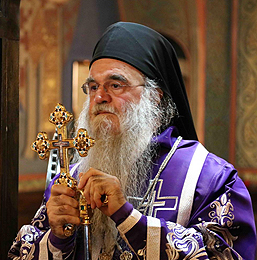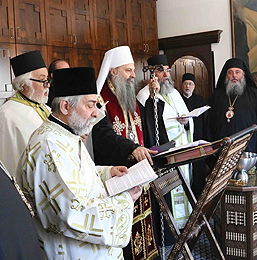 Protopresbyter-staurophors Rajko Nedić, Branko Mitrović and Nikola Trajković, archpriest Arsenije Arsenijević and protodeacons Stevan Rapajić and Damjan Božić concelebrated to the Bishop, in the prayerful presence of Their Graces Bishops Marko of Bregalnica, Arsenije of Niš, Jerotej of Toplica, Sava of Marča and retired Georgije of Canada.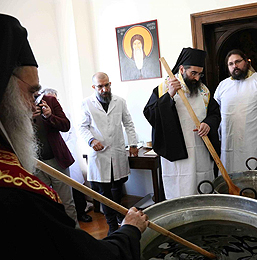 After the end of the Liturgy, Patriarch Porfirije and the hierarchs moved to a chamber, where the sacred rite of cooking myrrh continued under the expert supervision of chemical technologists Mr. Nenad and Mr. Nemanja Jovanov.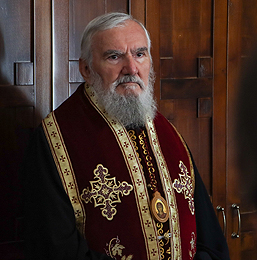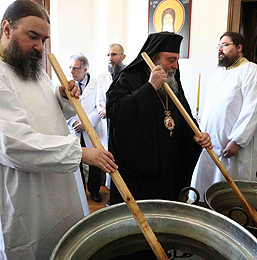 Η δεύτερη μέρα της «έψησις» του Αγίου Μύρου στο Πατριαρχείο Σερβίας
Η Αυτού Αγιότης, ο Πατριάρχης Σερβίας κ.κ. Πορφύριος παρέστη την Μεγάλη Τρίτη 19 Απριλίου 2022 στο πατριαρχικό παρεκκλήσι του Αγίου Συμεών του Μυροβλύτου, ο Θεοφιλέστατος Επίσκοπος Κρούσεβατς κ. Δαυίδ, μέλος την Ιεράς Συνόδου του Πατριαρχείου της Σερβίας, χοροστάτησε στην Αρχιερατική Θεία Λειτουργία των Προηγιασμένων Θείων Δώρων, κατά την οποία συγχοροστάτησαν οι πρωτοπρεσβύτεροι π. Ράγικο Νέντιτς, π. Μπράνκο Μίτροβιτς, π. Νίκολα Τράγικοβιτς, π. Αρσένιο Άρσενίγιεβιτς, καθώς και οι πρωτοδιάκονοι π. Στέβαν Ραπάϊτς και π. Ντάμγιαν Μπόζιτς, με προσευχητική παρουσία των Θεοφιλέστατων Επισκόπων Μπρέγκαλνιτσα κ. Μάρκο, Νις κ. Αρσένιο, Τόπλιτσα κ. Ιερόθεο, Μάρτσα κ. Σάββα και Επισκόπου πρώην Καναδά κ. Γεώργιο.
Μετά την απόλυση της Θείας Λειτουργίας, ο Πατριάρχης Σερβίας κ.κ. Πορφύριος, μαζί με τους λοιπούς Αρχιερείς μετέβη στο Κουβούκλιο του Πατριαρχείου, όπου συνεχίστηκε η τελετή «έψησις» του Αγίου Μύρου, υπό την φροντίδα των λεγόμενων Μυρεψών, οι οποίοι είναι επιστήμονες του χώρου της χημείας, κ. Νέναντ Γιοβάνοβ και κ. Νέμανια Γιοβάνοβ.
***
Мироварение в Патриархии Сербской – день второй
В присутствии Его Патриарха Сербского г-на Порфирия в Великий Вторник, 19 апреля 2022 года в патриаршей часовне Преподобного Симеона Мироточивого, его преосвященство епископ Крушевацкий господин Давид, член Священного Архиерейского Синода Сербской Православной Церкви. Служил Божественную архиерейскую Литургию преждеосвященных даров.
Его Преосвященству сослужили протопресвитеры- ставрофоры Райко Недич, Бранко Митрович и Никола Трайкович, протопресвитер Арсений Арсениевич и протодьяконы Стеван Рапаич и Дамиан Божич, в молитвенном присуствии преосвященных Господ епископов Брегалничского Марка, Нишского Арсения, Топличского Ерофея, Марчанского Саввы и Канадского Георгия, умировленного.
По окончании Литургического отпуста Патриарх Порфирий и архиереи перешли в мироваренную палату Патриаршеского дворца, где продолжился священный чин миротворения под строгим профессиональным наблюдением химических технологов господ Ненада и Немани Иовановых.