Serbian Patriarch received Ambassador of Israel
13. April 2021 - 15:36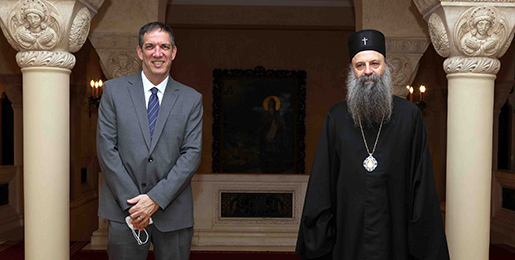 His Holiness Porfirije, Serbian Patriarch received His Excellency Jahel Villan, Ambassador of the State of Israel to the Republic of Serbia,at the Serbian Patriarchate in Belgrade, on April 12, 2021.
Serbian Patriarch Porfirije in a cordial conversation with Ambassador Villan, referred to the fraternal ties between Serbs and Jews, who treat each other with a lot of respect and understanding, emphasizing that the Serbian Orthodox Church nurtures extremely good relations with Jewish communities in the region.

The Ambassador of Israel congratulated the Serbian Patriarch on his enthronement as the primate of the Serbian Orthodox Church. The audience was attended by the head of the Office of the Serbian Patriarch, Deacon Dr. Aleksandar Prascevic.