Serbian Patriarch received the Head of the EU Delegation
25. March 2021 - 10:45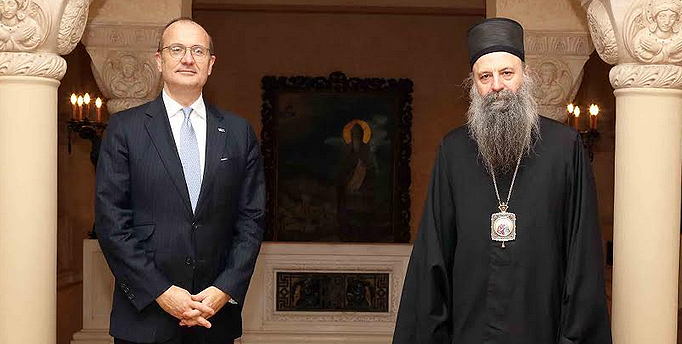 His Holiness Porfirije, Serbian Patriarch, received His Excellency Sem Fabrizi, Head of the Delegation of the European Union to the Republic of Serbia in the Serbian Patriarchate in Belgrade, on 24 March 2021.
Serbian Patriarch Porfirije, thanked Ambassador Fabrizi for his visit and congratulations on the occasion of the election and enthronement to the throne of the primates of the Serbian Orthodox Church, and emphasized that he appreciates and supports every effort to bring people together regardless of their ethnic and religious affiliation.
The Patriarch also pointed out that he was aware of the fact that there are still many problems waiting to be solved in the region and that he therefore prayed to God that all solutions would be the result of a fair dialogue in order to achieve conditions for long-term coexistence in peace and love.
Ambassador Fabrizi thanked His Holiness for the warm reception during which he was convinced that the Patriarch Porfirije is firmly committed to maintaining good relations with all churches and religious communities not only in the Republic of Serbia and the region, but throughout the world.
The reception was attended by the Deputy Head of the European Union Delegation to the Republic of Serbia, Mateja Norcic Stamcar, and the Head of the Office of the Serbian Patriarch, Deacon Aleksandar Prascevic, PhD