Serbian Patriarch receives Ambassador of Austria
4. April 2021 - 18:45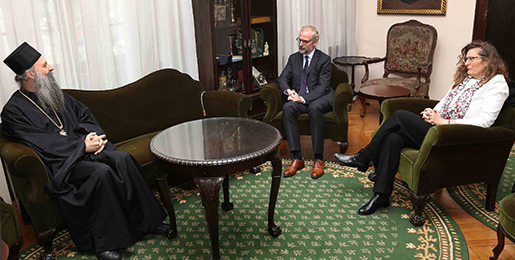 His Holiness Porfirije, Serbian Patriarch received His Excellency Nikolaus Lutterotti, Ambassador of the Republic of Austria to the Republic of Serbia at the Serbian Patriarchate on 2 April 2021.
During the meeting, the Primate of the Serbian Orthodox Church expressed his gratitude to the Republic of Austria for a completely appropriate attitude towards the spiritual needs of Orthodox Serbs who live and work in that country. The Patriarch expressed his belief that all-important issues will continue to be resolved in close cooperation with the competent authorities with His Grace Bishop Andrej of Austria-Switzerland.
Congratulating the Patriarch on his enthronement, Ambassador Lutterotti pointed out that the Patriarch's long-term commitment to building peace, understanding and trust in the region is known, recognized and highly appreciated in Austria.
The interlocutors emphasized the common position on the importance of cooperation between the Serbian Orthodox Church and the Roman Catholic Church in Austria, and the Patriarch said that the Serbian people owe great gratitude to Roman Catholics in Austria, especially Cardinal Schönborn, who showed Christian love for our Church and people.
The audience was attended by the Deputy Ambassador of the Republic of Austria to the Republic of Serbia, Ms. Sabine Kroissenbrunner, and the Head of the Office of the Serbian Patriarch, Deacon Dr. Aleksandar Prascevic.