Serbian Patriarch receives Ambassador of Great Britain
24. March 2021 - 13:12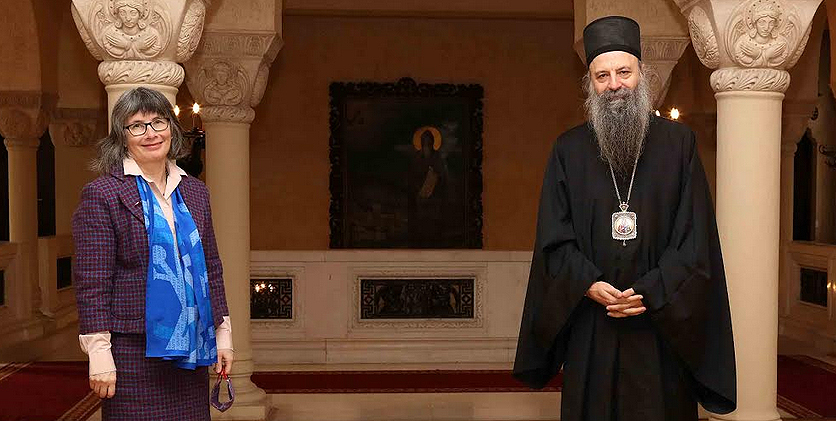 His Holiness Serbian Patriarch Porfirije received His Excellency Sian MacLeod, the Ambassador of Great Britain to the Republic of Serbia, in the Serbian Patriarchate in Belgrade, on 23 March 2021.
Patriarch Porfirije thanked Ambassador MacLeod for the visit and greetings regarding the election and the enthronement to the throne of the primates of the Serbian Orthodox Church. The Patriarch especially thanked for the work that the ambassador is investing in the improvement of relations between Serbia and Great Britain, emphasizing that the all-around development of Serbian-British relations especially strengthens the cordial relationship that traditionally exists between the Serbian Orthodox Church and the Anglican Church.

In that sense, the Patriarch reminded of the historic visit of the Prince of Wales to the Serbian Patriarchate in March 2016, as well as the visit to Great Britain of Serbian Patriarch Irinej of blessed repose in October of the same year.

The Patriarch emphasized that the doors of the Patriarchal Palace are open to members of the Anglican community in Serbia who have been celebrating prayerfully the Feast of the Descent of the Holy Spirit on the Apostles in the Patriarchal Chapel of St. Simeon the Myrrh-bearer for decades.

Ambassador McLeod thanked the Serbian Patriarch Porphyry for the warm reception and wished him to successfully manage the helm of the Serbian Church.

The audience was attended by Vicar Bishop Stefan of Remesiana, Anglican priest in Belgrade Robin Fox, political adviser at the British Embassy in Belgrade Mr. Srdjan Gligorijevic and the head of the Office of the Serbian Patriarch, Deacon Aleksandar Prascevic, PhD.