Serbian Patriarch receives Ambassador of Panama to Serbia
7. September 2021 - 15:48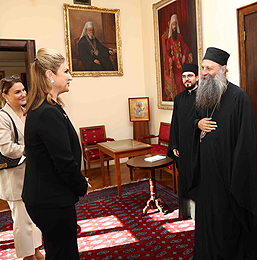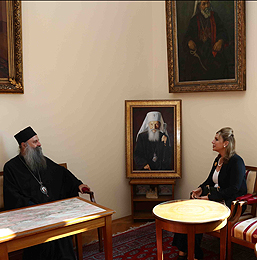 His Holiness Porfirije, Serbian Patriarch received Her Excellency Julie Limberopoulos, the non-resident Ambassador of the Republic of Panama to the Republic of Serbia, at the Patriarchal Palace in Belgrade, on September 6, 2021.
Besides current issues from the life of the Serbian Orthodox Church, the topic of conversation was the role of Patriarch Porfirije in the process of reconciliation and rapprochement of people of goodwill in the region.
The audience was attended by elected Bishop Sava of Marca, the head of the Office of the Serbian Patriarch; Mrs.Anna Tsioutsia, an employee of the Embassy of Panama in Athens, and deacon Dr. Aleksandar Prascevic, secretary of the Office of the Serbian Patriarch.