Serbian Patriarch receives Ambassador of Ukraine
15. April 2021 - 11:29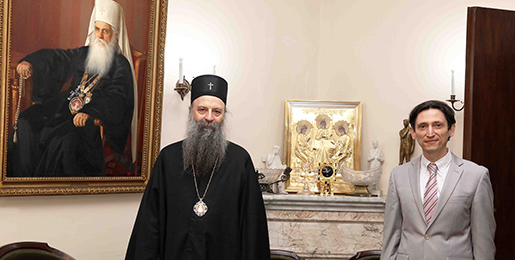 His Holiness Porfirije, Serbian Patriarch received His Excellency Alexander Alexandrovich, Ambassador of Ukraine to the Republic of Serbia at the Serbian Patriarchate in Belgrade, on April 14, 2021.
Serbian Patriarch welcomed Ambassador Alexandrovich and spoke warmly about the closeness of Serbs and Ukrainians. Ambassador Alexandrovich also pointed out several examples of historical, cultural and religious ties between the two fraternal peoples, emphasizing the participation of Ukrainian soldiers in the KFOR mission in Kosovo and Metohija, where, among other things, they were engaged in securing Serbian Orthodox shrines.
The audience was attended by the Deputy Ambassador of Ukraine to the Republic of Serbia, Marko Martinyuk, and the Head of the Office of the Serbian Patriarch, Deacon Dr. Aleksandar Prascevic.