Serbian Patriarch receives Apostolic Nuncio
21. August 2021 - 15:59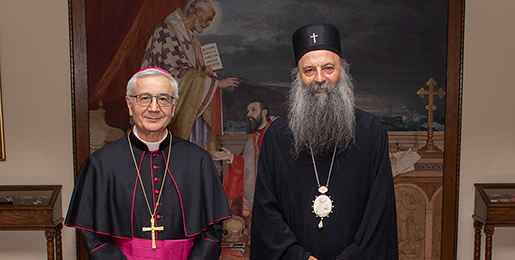 His Holiness Porfirije, Serbian Patriarch, received His Excellency Archbishop Luciano Suriani, Apostolic Nuncio to the Republic of Serbia, in the Patriarchate Palace in Belgrade, on 20 August 2021.
The Serbian Patriarch and the representative of the Holy See in an open talk, which is characterized by good intentions and understanding, exchanged views on a number of topics related to the problems and challenges that Christians face today in the world, especially in Europe.
The audience was attended by Monsignor Simon Peter Пријему су присуствовали Simon-Peter Lukyamuzi, the First Secretary of the Nunciature; don Aleksandar Ninkovic, Secretary of the Nunciature and deacon Dr. Aleksandar Prascevic, Secretary of the Office of the Serbian Patriarch.