Serbian Patriarch receives Minister of Ecology, Spatial Planning and Urbanism of Montenegro
6. April 2021 - 9:41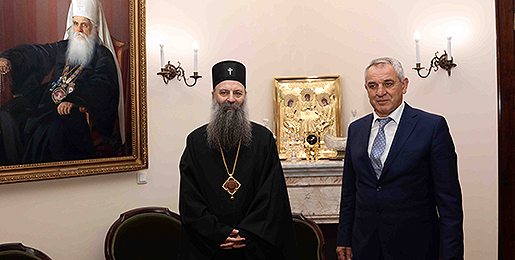 His Holiness Porfirije, Serbian Patriarch received Professor Dr. Ratko Mitrovic, Minister of Ecology, Spatial Planning and Urbanism of the Republic of Montenegro in the Serbian Patriarchate in Belgrade on April 5, 2021.
In the first meeting of Patriarch Porfirije with the representative of the Government of Montenegro, the necessity and importance of close cooperation between the two fraternal states was emphasized. The need to continue the renewal of Orthodox spirituality in the Republic of Montenegro was emphasized, and in that sense, the key contribution of Metropolitan Amfilohije of Montenegro and the Littoral of blessed repose. The fruits of his dedicated work can be seen in a large number of believing Orthodox believers, pious priests and monks, and numerous renovated and built churches and monasteries.
Minister Mitrovic pointed out that the current archbishops in Montenegro are the spiritual children of Metropolitan Amfilohije of blessed repose and that as such they are loyal to the throne of Saint Sava, the first Serbian Archbishop.

The audience was attended by the Head of the Office of the Serbian Patriarch, Deacon Dr. Aleksandar Prascevic.