Serbian Patriarch receives Minister of Foreign Affairs of the Republic of Cyprus
6. April 2021 - 9:54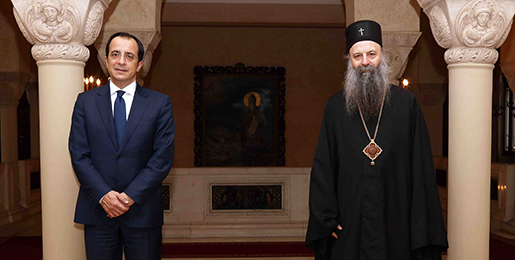 His Holiness Porfirije, Serbian Patriarch received His Excellency Nikos Christodoulidis, Minister of Foreign Affairs of the Republic of Cyprus, at the Serbian Patriarchate in Belgrade, on April 5, 2021,
The Patriarch expressed satisfaction that he had the opportunity to greet a high official of friendly and monotheistic Cyprus, with whose people the Serbian people share a very similar history and modern circumstances. The Patriarch emphasized the importance of improving the fraternal relations between Serbia and the Serbian people with the people of Cyprus and the Greek people as a whole.
The Patriarch used the opportunity to send cordial and fraternal greetings to the hierarchs and the faithful people of Cyprus.

Minister Christodoulidis, thanking for the warm welcome, congratulated the Serbian Patriarch on the election and enthronement to the throne of the primates of the Serbian Orthodox Church and wished that peace always reigns in the Balkans and the Mediterranean as a whole.
The audience was attended by Ambassador of the Republic of Cyprus to the Republic of Serbia Demetrios A. Theophylactou with associates, Hierodeacon Sava (Bundalo) and the Head of the Office of the Serbian Patriarch, Deacon Dr. Aleksandar Praščević.