Serbian Patriarch talks with Swedish Ambassador (English, Greek, Russian)
6. April 2022 - 11:42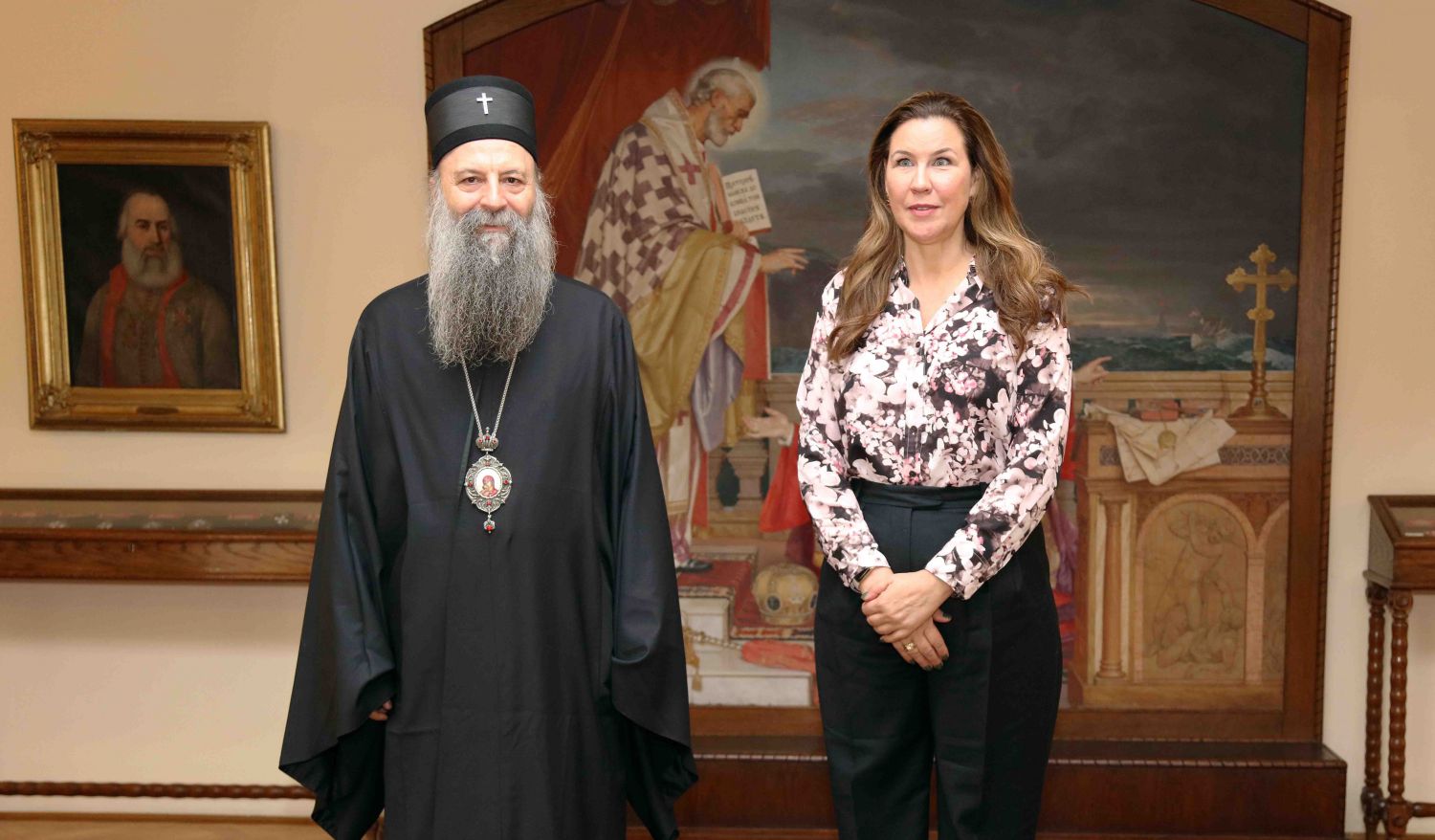 His Holiness Porfirije, the Serbian Patriarch, received Her Excellency Mrs. Annika Ben David, Ambassador of the Kingdom of Sweden to the Republic of Serbia in the Patriarchal Palace in Belgrade, on 4 April 2022.
In a cordial and friendly conversation, Patriarch Porfirije emphasized the need for dialogue and mutual respect, which have not only political or economic needs but above all spiritual and cultural values.
Ambassador Ben David thanked Patriarch Porfirije for the reception. She expressed her great desire to bring the relations between the Serbian and Swedish people as close as possible to spiritual values. Such a relationship, imbued with gospel principles, guarantees love, respect, and fruitful dialogue.
His Grace Bishop Sava of Marča, Head of the Office of Serbian Patriarch; Mr. Alexander Peyre Dutrey, Counsellor/Deputy Head of Mission; Mr. Bojan Cvilak, Coordinator for the European Union of the Embassy of Sweden attended the audience.
Συνομιλία του Πατριάρχη κ.κ. Πορφυρίου με την Πρέσβη της Σουηδίας
Η Αυτού Αγιότης, ο Πατριάρχης Σερβίας κ.κ. Πορφύριος υποδέχτηκε στις 4 Απριλίου 2022 στο Πατριαρχικό Μέγαρο του Βελιγραδίου την εξοχότατη Πρέσβειρα της Σουηδίας στη Σερβία, την κα Ανίκα Μπεν Νταβίντ.
Σε φιλική συνομιλία, ο Πατριάρχης Πορφύριος τόνισε την ανάγκη για διάλογο και αλληλοσεβασμό, που αποτελούν θεμέλια, όχι μόνο των πολιτικών και οικονομικών, αλλά πρωτίστως των πνευματικών και πολιτιστικών αξιών.
Η Πρέσβης ευχαρίστησε τον Πατριάρχη για την εγκάρδια υποδοχή και εξέφρασε μεγάλη επιθυμία να συνδράμει ώστε οι σχέσεις των δύο λαών, του Σερβικού και του Σουηδικού, να είναι πιο δυνατές και κτισμένες σε πνευματικές αξίες. «Μια τέτοια σχέση, εμποτισμένη με τις πνευματικές αρχές του Ευαγγελίου, εγγυάται αγάπη, σεβασμό και γόνιμο διάλογο».
Στην συνάντηση παραβρέθηκαν ο Θεοφιλέστατος Επίσκοπος Μάρτσα, κ. Σάββας, Διευθυντής του Γραφείου του Πατριάρχη της Σερβίας, ο κ. Αλεξάνταρ Πιέρ Ντουτρεϊ, Σύμβουλος/Αναπληρωτής Πρέσβης της Σουηδίας και ο κ. Μπόγιαν Τσβίλακ, συντονιστής για τα θέματα της Ευρωπαϊκής Ένωσης στην Πρεσβεία της Σουηδίας.
Разговор Патриарха Порфирия и посла Швеции
Его Святейшество, Патриарх Сербский г-н Порфирий принял 4 апреля 2022 года в Патриаршем дворе в Белграде и её Экселенцию госпожу Аннику Бен Давид, посла Королевства Швеции в республике Сербии.
В сердечном и дружеском разговоре Патриарх Порфирий подчеркнул важность и потребность к диалогу и взаимному уважению имеющим за свои основы не только политические и экономические потребности, а, скорее всего, духовные и культурные ценности.
Посол Бен Давид поблагодарила Патриарха Порфирия за приём, выразивши большое желание, чтобы отношения сербского и шведского народов как нельзя больше, стали близкими именно на основе духовных ценностей. Такое отношение пронизанное евангельскими принципами гарантирует любовь, уважение и плодоносный диалог.
Приёме присуствовали Преосвященный Епископ Марчанский Савва, управляющий Кабинетом Патриарха Сербского, г-н Александр Пьер Дутрей, советник / заместитель посла Щвеции, и г-н Боян Цвилак, координатор при Европейском Союзе посольства Швеции.