Seven years of the episcopal ministry of Bishop Ilarion
11. August 2021 - 14:06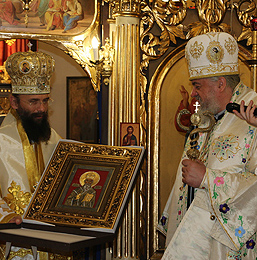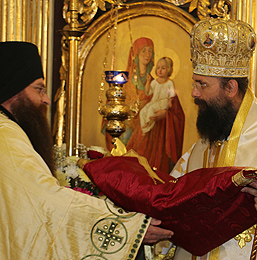 His Grace Bishop Ilarion of Timok celebrated the seventh anniversary of his ordination and the enthronement to the throne of the Bishops of Timok, on August 10, 2021.
On that occasion, in the church of the Holy Father Nicholas in Donji Milanovac, His Grace Bishop Ilarion celebrated the Holy Hierarchical Liturgy together with His Grace Bishop Kiril of Buenos Aires and South-Central America, Archimandrites Stefan, Kozma and Jovan; protopresbyter-staurophor Luka Jovic, protosynchellos Zaharije, archpriests Sasa Stepanovic and Ivan Milanovic, hieromonk Enoh, protonamesnik Radoje Mijovic, presbyter Nikola Stojanc, archdeacon Ilija, and deacons Vuk Jovanovic and Uros Pamucar.
After the Holy Liturgy, Bishop Ilarion received gifts from the President of the Municipality of Majdanpek, Mr. Dragan Popovic; Bishop Kiril and Abbot Kozma, who presented him with a gift on behalf of the clergy and monks of the Diocese of Timok.
Source: Diocese of Timok