Statement of condolences of His Holiness Serbian Patriarch kyr Porfirije (English, Greek, Russian)
1. April 2022 - 17:02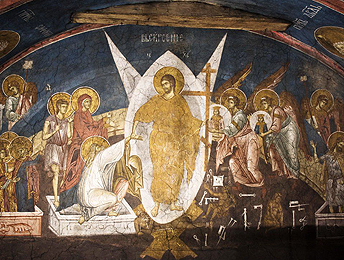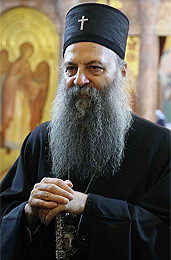 Statement of condolences
With profound sorrow, I sincerely sympathize with the suffering of the miners in Sokobanja. Knowing that our First Sufferer is the Lord Jesus Christ, Who descended into Hades and saved all the captives from darkness, I offer prayers to Him and His Saints, together with the entire Church of God, to save the trapped, comfort the bereaved and receive the deceased in His bosom, for He is the Resurrection and Life, Christ our God, the sense of our lives' adversities and joys, we live in Him and by Him we are resurrected for the eternal life.
Το συλλυπητήριο μήνυμα του Πατριάρχη Σερβίας κ.κ. Πορφυρίου
Συμπάσχω ειλικρινά και με πόνο ψυχής για τα δεινά των ανθρακωρύχων μας στη Σοκομπάνια. Γνωρίζοντας ότι ο πρώτος μας μάρτυρας είναι ο Κύριος Ιησούς Χριστός, ο οποίος κατέβηκε στον Άδη και έσωσε όλους τους αιχμαλώτους από το σκοτάδι, γόνυ κλίνομεν προς Εκείνον και τους Αγίους Του μαζί με όλη την του Θεού Εκκλησία, ώστε να σώσει τους παγιδευμένους, να παρηγορήσει τους λυπημένους και να αγκαλιάσει όσους υποφέρουν, γιατί ο Χριστός μας είναι η Ανάσταση και η Ζωή, ο Θεός μας, το νόημα όλων των βιωτικών μας προβλημάτων και των χαρών της ζωής μας- ζούμε μέσα Του και ανασταίνουμε με Εκείνον για την αιώνια ζωή.
Выражение соболезнования Патриарха Сербского г-н Порфирия
Со чувством глубокой боли искренне соучаствую в страданий горняков в Сокобане. Всегда имея в своём уме, что наш первостраждущий Господь Иисус Христос, сошедший в Ад избавил всех от тьмы, молитвы Ему приносим и Его Святым вместе со всей Церковью Божьей, чтобы спасил всех находящихся в плену, утешил всех тоскующих и принял в своё объятие всех пострадавших, ибо Он - Воскресенье и Жизнь, Христос Бог наш, смысл всех наших жизненных, радостей и бедствий. Мы в Нём живем, и благодаря Ему мы воскресаем за вечную жизнь.