Third day of Myrrh cooking in the Serbian Patriarchate
20. April 2022 - 15:30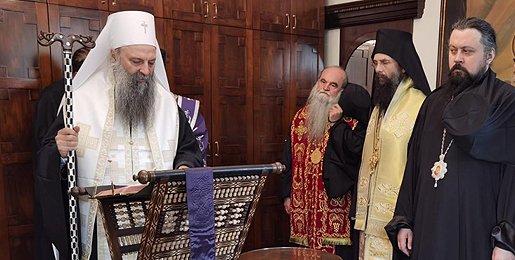 In the prayerful presence of His Holiness kyr Porfirije, the Serbian Patriarch, His Grace Bishop kyr Marko of Bregalnica officiated the Holy Hierarchal Liturgy of the Presanctified Gifts in the side chapel of Venerable Simeon, the Myrrh-Gusher in Belgrade, on 20 April 2022, on Holy and Great Wednesday (photo gallery).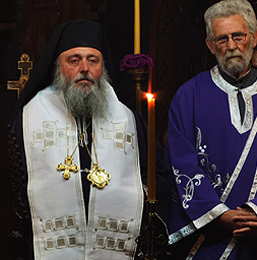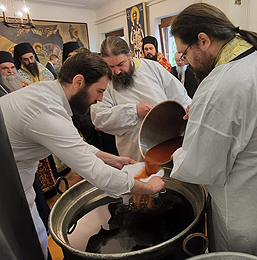 The Bishop was concelebrated by protopresbyter-staurophors Dragomir Ubiparipovic and Dragan Stanisic, archpriest Dragan Sovljanski, protonamesnik Miroslav Colakovic and protodeacons Radomir Percevic and Mladen Kovacevic, in prayerful presence of Their Graces Bishops David of Krusevac, Arsenije of Nis, Ilarion of Timok, Jerotej of Toplica, Justin of Hvosno and Sava of Marcha. After the Liturgy Patriarch Porfirije and hierarchs went to the Patriarchate's chamber where the rite of myrrh cooking continued.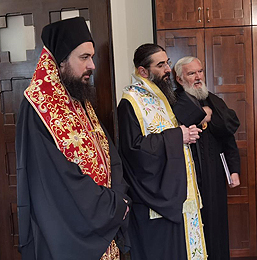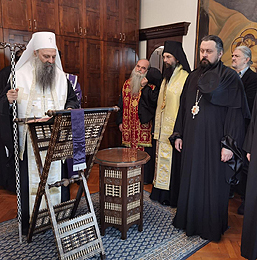 Συνεχίστηκε σήμερα Μεγάλη Τετάρτη η τελετουργική διαδικασία της έψησης (παρασκευής) του Αγίου Μύρου στο Πατριαρχείο Σερβίας
Με προσευχητική παρουσία του Αγιωτάτου Πατριάρχη Σερβίας κ.κ. Πορφυρίου, την Μεγάλη Τετάρτη 20 Απριλίου 2022 στο πατριαρχικό παρεκκλήσι του Αγίου Συμεών του Μυροβλύτου, στην Θεία Λειτουργία των Προηγιασμένων Θείων Δώρων χοροστάτησε ο Θεοφιλέστατος Επίσκοπος Μπρέγκαλνιτσα κ. Μάρκος, κατά την οποία συγχοροστάτησαν οι πρωτοπρεσβύτεροι π. Ντράγκομιρ Ούμπιπαρίποβιτς, π. Ντράγκαν Στάνισιτς, π. Ντράγκαν Σοβλιάνσκι, πρωτοεφημέριος Μίροσλαβ Τσολάκοβιτς και οι πρωτοδιάκονοι π. Ράντομιρ Πέρτσεβιτς και π. Μλάντεν Κοβάτσεβιτς. Παρέστησαν, επίσης, Θεοφιλέστατοι Επίσκοποι Κρούσεβατς κ. Δαυίδ, Νις κ. Αρσένιος, Τίμοκ κ. Ιλαρίων, Τόπλιτσα κ. Ιερόθεος, Χβόσταν κ. Ιουστίνος και Μάρτσα κ. Σάββας.
Μετά την απόλυση της Θείας Λειτουργίας, ο Πατριάρχης Σερβίας κ.κ. Πορφύριος, μαζί με τους λοιπούς Αρχιερείς μετέβη στο Κουβούκλιο του Πατριαρχείου, όπου συνεχίστηκε η τελετή «έψησις» του Αγίου Μύρου.