Bishop Irinej of Backa awarded the Hungarian Order for his contribution to the historical reconciliation of the two peoples
29. September 2021 - 9:02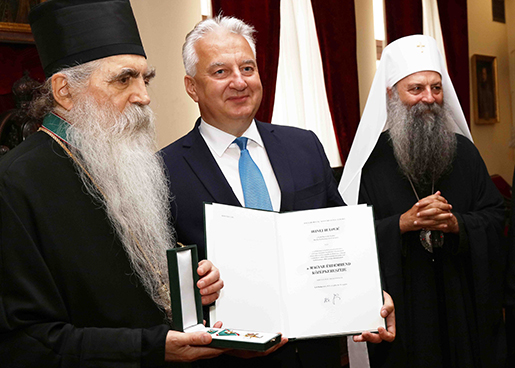 "The role of Bishop Irinej Bulovic in the historical reconciliation of the Hungarian and Serbian people and his work on the promotion of interfaith dialogue have significantly contributed to the strengthening of trust and the development of relations between the two peoples," the letter from the President of Hungary János Áder says.
At the appropriate ceremony held on September 28, 2021, at the Patriarchal Palace in Belgrade, in the presence of His Holiness Porfirije, the Serbian Patriarch, Bishop Jerotej of Toplica, Bishop Justin of Hvosno, elected Bishop of Marca, Archimandrite Sava, the head of the Patriarch's Office; members of the state delegation of Hungary, as well as Mr. Bálint Pásztor, Member of Parliament and prominent representative of the Hungarian people in Serbia; Deputy Prime Minister of Hungary Mr. Zsolt Semjén, on behalf of the President of Hungary Mr. János Áder, decorated His Grace Bishop Irinej of Backa with the Commander's Cross of the Order of Merit.
The ceremony was also attended by Mr. Antal Benkovics from the office of the Deputy Prime Minister, the representative of the Serbs in the Parliament of Hungary, Mr. Ljubomir Aleksov; Consul General of Hungary in Subotica, Mrs. Eszter Csallóközi; Mr. Radován Rusz from the Consulate General of Hungary in Subotica, Secretary at the Embassy of Hungary Mr. Robert Kaszab and Mr. Bálint Pásztor from the Alliance of Vojvodina Hungarians.