Patriarch Porfirije at the Orthodox Grammar School in Zagreb
26. February 2021 - 20:33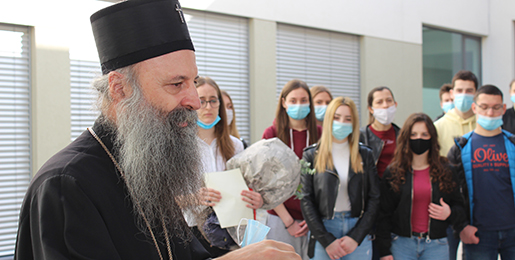 His Holiness Porfirije, Serbian Patriarch, the administrator of the Diocese of Zagreb-Ljubljana, visited the Serbian Orthodox Grammar School Kantakuzina Katarina Brankovic in Zagreb on February 26, 2021.
The patriarch visited the grammar school on the seventh day since he was enthroned on the throne of the Belgrade-Karlovci metropolitans and Serbian patriarchs in Belgrade on February 19. On behalf of the school, protopresbyter-staurophor Slobodan Lalic, principal of the Grammar school, congratulated Patriarch Porfirije on his election as the new Primate of the Serbian Orthodox Church.
Protopresbyter-staurophor Slobodan Lalic said that the feelings of both the students and the teachers are mixed, that they are immensely happy, but at the same time they feel sad because of at least a formal upcoming parting with their archpastor.
The Patriarch said that his feelings regarding the election were also mixed, as well as that he himself felt sadness and joy. He told the students and teachers that he would try to do more than he has done for the school so far.
- I feel that with the support, love and prayer of all, and above all young people and children, we must bear witness to the truth of the Gospel, which calls us to love every human being. No matter how complicated and difficult that truth was and no matter how much we were sometimes challenged to sometimes show some kind of dissatisfaction and aggression, it is better to overcome and transform it all and it is certain that we will be stable and calm, and we will be happy. Then, when we are angry and carry aggression within us, then there is no peace or joy, but only the frustration deepens in each of us, reminded Patriarch Porfirije.
-I love you all and I ask you to pray to God for me, because that is the only thing that I feel is necessary at this moment. The service of the Metropolitan in Zagreb is challenging, but that service has undeservedly enriched me. Not only have I learned a lot, but many times I have been delighted by various unexpected and surprising situations, and above all by people, among whom you are all, said the Patriarch Porfirije, addressing the students and teachers of the school.
Fourth grade student Marija Guzvica congratulated His Holiness on his election as Patriarch and expressed gratitude for everything he did for the Grammar school in previous years. "Please pray for us, and we will pray for you," she said, handing him a bouquet of flowers.
Michael Keleuva, a third-grade student, also addressed the Patriarch: - Pray that we walk the path of likening ourselves to the Image of God, that we may live in the spirit of the Gospel and our holy Church. We are proud and happy to know you and to lead our Church. We ask for your blessing and prayerful protection and care.
His Holiness was accompanied by the Secretary of the Diocese of Zagreb-Ljubljana, presbyter Bogoljub Ostojic.
Source: Metropolitanate of Zagreb and Ljubljana
Извор: Митрополија загребачко-љубљанска