Serbian Patriarch receives the Head of the OSCE Mission to the Republic of Serbia
22. April 2021 - 9:46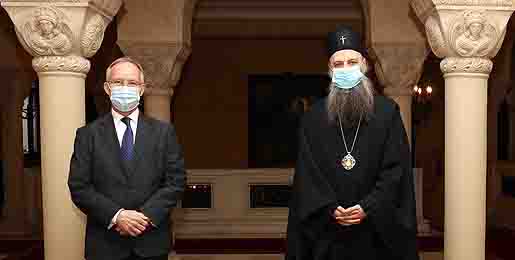 His Holiness Porfirije, Serbian Patriarch received His Excellency Jan Braathu, Head of the OSCE Mission to the Republic of Serbia, at the Serbian Patriarchate in Belgrade, on April 19, 2021.
Serbian Patriarch Porfirije during the meeting with Braathu emphasized the importance of interfaith dialogue as a way to achieve and preserve peaceful and harmonious coexistence, pointing out that the Serbian Orthodox Church is always ready to discuss solving problems that are obstacles to peace and cooperation in the region.
Patriarch Porfirije pointed out that in such sense he highly appreciates the efforts of Bishop Teodosije of Raska- Prizren and his regional clergy and monastics, which certain individuals and organizations tried to falsely and unjustly accuse with an obvious desire to bring unrest and endanger the survival of monasticism and the remaining Serb population in Kosovo. and Metohija.
The Head of the OSCE Mission, Mr. Braathu introduced Serbian Patriarch Porfirije with the activities of that international organization, emphasizing that he respects the efforts of Patriarch Porfirije on building peace and stability and that in that sense he can expect his full support, because one of his priorities is to help develop religious tolerance in society.
The audience was attended by the Head of Policy and Coordination at the OSCE Mission to the Republic of Serbia, Mr. Giovanni Gabassi and the head of the Office of the Serbian Patriarch, deacon Dr. Aleksandar Prascevic.