Serbian Patriarch received the Ambassador of Georgia to Serbia
7. September 2021 - 16:00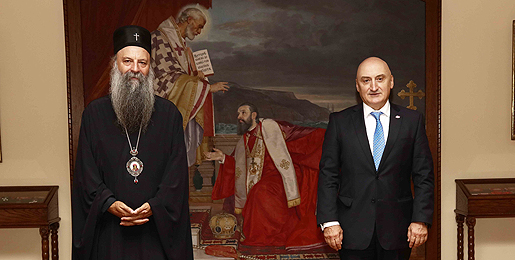 His Holiness Porfirije, Serbian Patriarch received His Excellency David Dondua, the non-resident Ambassador of the Republic of Georgia to the Republic of Serbia, at the Patriarchal Court in Belgrade, on 7 September 2021.
During the cordial meeting with the Georgian Ambassador, the primate of the Serbian Orthodox Church emphasized that he would continue the tradition of nurturing fraternal relations between the peoples of Serbia and Georgia, which, although geographically distant, are in many ways close and similar.
Ambassador Dondua thanked Patriarch Porfirije for the warm reception and pointed out that he would make a great effort to create opportunities for the peoples of Serbia and Georgia to visit as often as possible and thus get to know and develop good relations.
The audience was attended by elected Bishop of Marca, Archimandrite Sava; head of the Cabinet of the Serbian Patriarch; His Excellency Ilia Koberidze, Chargé d'Affaires of the Georgian Embassy in Athens with a mission in Belgrade; and Deacon Dr. Aleksandar Prascevic, Secretary of the Office of the Serbian Patriarch.