Serbian Patriarch receives Ambassador of Greece to Serbia
8. September 2021 - 11:49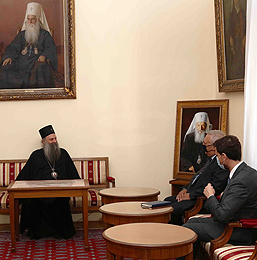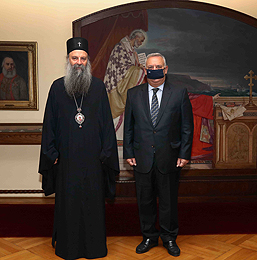 His Holiness Porfirije, Serbian Patriarch, received His Excellency Georgios Diakofotakis, Ambassador of the Republic of Greece to the Republic of Serbia, at the Serbian Patriarchate on 7 September 2021.
In a cordial and friendly conversation, Serbian Patriarch Porfirije emphasized that the Serbian Orthodox Church remembers with gratitude the fraternal solidarity and wholehearted help of the Greek people in difficult moments for the Serbian people. - Now, when the Hellenic Republic, in addition to the pandemic, is also facing the massive fires, the Serbian Orthodox Church will, in accordance with the possibilities, come to the aid of the sister Greek Orthodox Church and the fraternal Greek people, Patriarch Porfirije pointed out.
Ambassador Diakofotakis thanked Patriarch Porfirije for the love he has for the Greek people and the work he is investing in nurturing the brotherly relations between Serbs and Greeks.
The audience was attended by the elected Bishop of Marca, Archimandrite Sava, head of the Office of the Serbian Patriarch; Mr. Dimitrios Michalis, First Secretary of the Embassy of the Hellenic Republic; and deacon Dr. Aleksandar Prascevic, Secretary of the Office of the Serbian Patriarch.